Waldron Wins Teen Vocalist
1- Its been a good year for you, starting with the lead in the spring musical Cinderella. Were you expecting this kind of success?Honestly I was not. In my previous years I had tried out for all the musicals and gotten parts, but I had been told by many people that I was only cut out to be a comedic side character, so I definitely did not expect Cinderella. I've had to work very hard for everything that I have achieved, and up until now it had kind of felt like all that hard work had been for nothing. I was honestly not expecting anything different, but I'm glad that all my effort finally paid off. 
2- Music is a pretty tight-knit community at SVHS and you have sung with and acted with the same people for 4 years. What have they had to do with your deferment and success?  
Well, being in a grade with so many talented girls has always been difficult. I love them dearly and they are some of my closest friends, but they definitely made it difficult. With people like Ki, Norrah, and Isabel Hinton all in my grade pursuing the same goals, I had to work extra hard to keep up with them. I think we all helped each other become better because we were always having to improve to be able to keep up with each other.
3- You won the team vocalist on your first try. Why did you wait until your senior year to compete?
I had a lot of family complications during my other years of high-school, and I felt like I should have focused on that instead of something like the vocalist. I also had things like Singco and Treble that required a lot of work and extra practices as well, and I hadn't learned how to divide my time yet. I guess another reason would be that I wasn't as confident in my voice back then either.
4- What was that experience like?
The Teen Vocalist was so fun to be a part of, but very scary as well. It's hard to compete against some of your best friends because you want to win, but you also want them to win. One of the coolest parts about the whole experience was the sound check because it was the first time hearing everyone with a mic, and I think it's really a shame that the public never got to hear some of the competitors' other songs. My friends and I practiced a lot together. Carlee and I actually helped each other with our numbers at least every other day.
5- What goes into singing the lead in a musical or competing in a singing competition?
A lot of time and effort. I would say that maybe I am a bit of an overachiever when it comes to practicing compared to other people though. There's not a single day that I don't work on music for at least 4 hours. During musical season I would go to the practice rooms during lunch to work on songs, during my free period, before musical practice started, and continued to go home and work on my songs and lines there as well. I would say I probably spent around 8-9 hours a day practicing for that show. I also might have secretly been going over lines during practically all of my classes. When you're up there all alone you can't rely on anyone else during a solo but yourself, so it's very important to practice until it becomes muscle memory. For the vocalist I had the same attitude. I would practice during lunch, my free period, and after school. I would say I practiced at least 5 and a half hours a day for The Teen Vocalist. Let's just say that my voice can definitely withstand a lot because other people would try to do that and most likely lose their voice.
6- Are you confident in your voice and know you sound good or are you insecure about your voice like most people?
Well, I would say that I am pretty confident in my voice and that I think that I sound good, but my confidence wavers at times. I definitely do not think I'm as good as people say that I am though. Everyone has their bad days where they feel like they sound like trash. I think it is very important to believe in yourself and your talents though because if you don't, then how can you expect others to?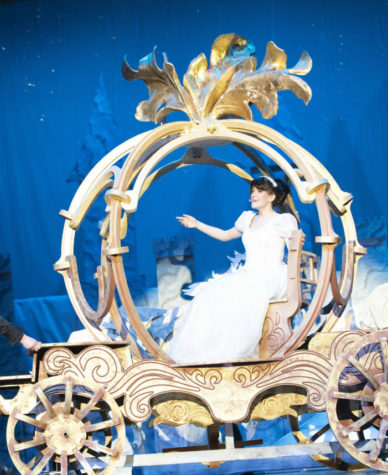 7- If you had to name your go to shower singing song, what is it?
I'm a musical theater kid at heart so do not judge me too harshly okay. My go to sing-in-the-shower song would be "Stars" from Les Mis 
8- What role will singing play in your future?
I actually am going to be going to BYU I and major in music education and hopefully minor in theater as well. I plan on teaching choir one day and hopefully direct a musical as well. I am very excited and I will definitely keep performing and growing my skills in the future as well.