SVHS Has Tough Weekend in Casper During 4A State Basketball
The Braves and Lady Braves headed to casper for the 4A state basketball tournament on March 11-13.
The Lady Braves had a tough weekend, losing in the first 2 rounds against Chyanne East, number 2 on the East side of the region, and Campbell County, number 4 on the East side of the region.
Senior Maddie Hale said, "State was fun. We didn't have the outcome we wanted, but the experience and memories that we made were some that I will keep forever!" 
Not all schools even made it to the 4A state tournament, so the Lady Braves qualifying was a victory in itself. Hale and the other seniors played their last games for SV in Casper. They lost but, Hale said, "The season was definitely the best for last!"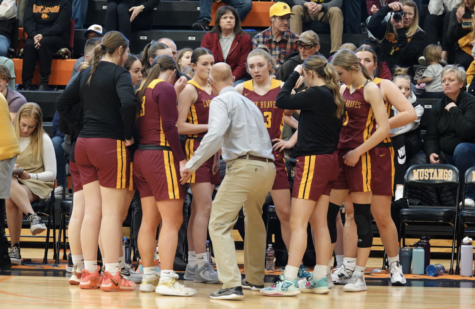 The Braves were projected to win the first game but ran into a Camel's team from Gillete who scored 36 of their points from beyond the arch and shot 82.4% from the free throw line.
After the tough loss, the boys bounced back in their second game and pulled out the win against familiar rivals Jackson Broncs, beating them 65-51 and advancing into the consolation bracket.
They went on to lose the next game against Riverton, the team they beat in the regional championship by 5 points 43-48. "It was a rough weekend. A lot of things didn't go our way, especially the first game. We had plenty of chances to put it away and we didn't," said senior Taft McClure.
McClure credited their one win at the tournament against Jackson to their "hate" of the team.
"Overall, a pretty disappointing weekend, but oh well, life goes on." The Braves will return much of their strong lineup next year, and hopes are already high that the '24 team will avenge the loses this season in Casper.