Jirak Dominates Indoor State Track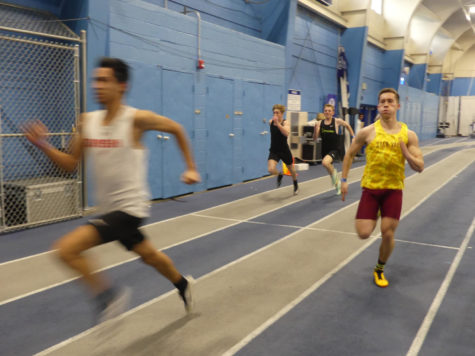 The track team ran outside in the snow for practice just in time to finish off the indoor season.
State Indoor Track and Field took place at Gillette on March 4th. Top runners included Jace Burton, Matt Heywood, Habi Wetzel, Petrer Lorch, Ava Morgan, Gracce Collins, Avery Hanburg, Kammi Merritt, and Valerie Jirak.
The boys 4×800 relay team took first at state with a team of Burton, Heywood, Wetzel, and Lorch with a time of 8:35.90. Wetzel also finished second in the mile, running an impressive 4:32. "The worst thing about the 800 is that you have to sprint the whole time, and the best thing is that it develops speed," said Wetzel.
Some Lady Braves also finished high on the podium at state. The girls 4 x 200 relay won first with a team of Collins,  Hanberg, Morgan, and Merritt with a time of a blistering 1:55.46.
Senior Ava Morgan also placed first in girls triple jump with a 35-06 leap and third in the long jump and 55 meter hurdles. She faced the challenge of doing both indoor track and cheer at the same time. "The hardest part was keeping my body healthy, just because I am struggling with a hip injury. Also, another big thing were practices and deciding which day I went where to make sure I had enough time in for both," said Morgan.
Junior Valerie Jirak was the star of the girls team, taking 1st in 55m with a time of 7.45, 1st in 200m running a 25.80, 1st in the 400 with a 58.98, and also first in the long jump with a jump of 17-09.25.
Jirak won every race she participated in. "I do a lot of training in the off season. I think that's where meets are won," said the track phenom. That certainly goes to show.
Was Jirak always the fastest her class or does this freshmen success come as a  surprise? "I have always been the fastest girl in my class, even when I lived in Nebraska." Her future plans included attending college for track and field and studying medicine.
Many of the indoor track athletes started outdoor track the Monday after state indoor, still practicing in the snow.