Braves Finish 3rd in First Year Back at 4A
In early March the Braves headed to Casper Wyoming for 4A State Wrestling, their first year back in 4A after a brief stint there over a decade ago. They took with them a win streak of 7-straight 3A state championships.
The team finished a very respectable 3rd at the tournament; however, three individuals did as well as they possible could. Freshman Tel Perry, sophomore Levi Bryd, and senior Grant Weiss all won state titles.
Weiss moved here from Utah this year and took to Braves wrestling like a fish to water. "The biggest thing that is different with the boys here is that they are just tough," said Weiss.
Weiss felt he became "more savage" under the tutelage of SVHS coaches. "I learned the most from my coaches. I needed to show my coaches that I wanted to learn from them to really teach me," said Weiss.
Weiss appreciated the small but important things that made all the difference in a championship season. Weiss said, "Championships are won by inches, and those small things are the things that make all difference."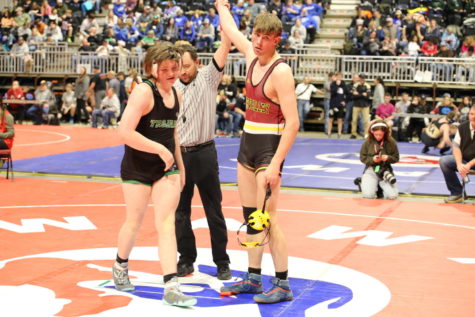 Tel Parry set the bar as high as he could during his first year on the team. "I want to win four. If I do, I will be the first 4-timer from  Star Valley," said Parry. His dad, Mr. Casey Parry, is also one of his coaches. "I can't beat my dad yet; he still beats the crap out of me."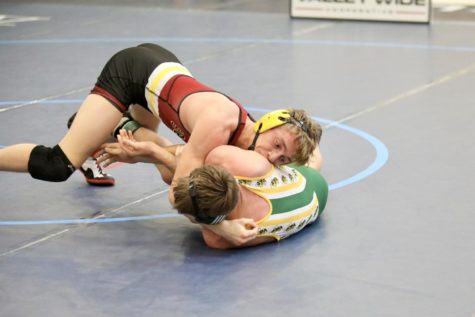 Just one year older than Parry, sophomore Levi Byrd also won a state championship. "I was really nervous at first but wasn't too worried about the kid because I have beat the kid before," said Byrd.
Sometimes, big wins in big moments take a while to sink in. "I was more excited than I thought I would be after I won the championship. It was pretty hype and lit."
Although third place at state is very respectable and as much as many schools could ever hope for, the Braves will be looking to finish two spots higher next year.