Cinderella to See if Shoe Will Fit in March
On March 16-18th, the shoe will definitely fit. That is because Cinderella is coming to the stage at SVHS.
The popular musical that audiences will enjoy in March is not the same as the one everyone grew up watching on the Disney Channel. Assistant director Mrs. Gina Fullmer explained, "The main story is the same, but there are a few twists.  There is a lot of action and magical things that happen on the stage in this production."
Along with the magic taking place on the stage, the timeless love story between Cinderella and Prince Charming will be the main focus. Addie Waldron landed the lead role of Cinderella. She said, "There are some crazy effects that happen in this musical, and if you blink you might miss it. People should be ready for the 'Impossible' to happen on stage this spring!"
Opposite Waldron, Wes Brog will play the valiant prince. He said, "I definitely don't have the hardest role in the play, that would be probably Tom Cunningham playing the role of Sebastian. I don't think I could play that role."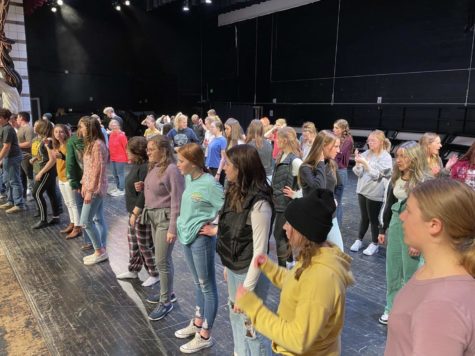 Other leads include Norah Nielsen, Tom Cunningham, Bridger Wolfley, Brock Haderlie, Isabel Hinton, and Avril Eyre.
In all, approximately 90 students will participate in this elaborate production, doing everything from acting, to dancing, to building sets, to running the the lights. One the supporting role players, freshman Bran Fullmer, said, "It's nice to just hang with my fellow village people in the background. It would be stressful to sing and speak alone."
The musical will run March 16th-18th with performances each night at 7:00 and a Saturday matinee at 1:00.  The high school may get the chance to see the production that week.  That is still to be determined.
Administration and musical directors encourage the student body to come enjoy the show and support their classmates on the stage. If they trust there will be enough interest, the students body may even get out of school to see the show. That day, at least, will end happily ever after.