Peterson Takes Education To Aquatic New Level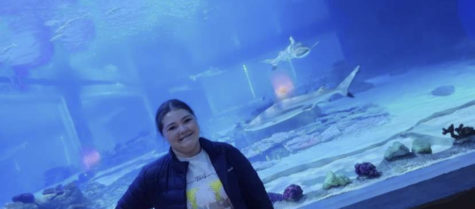 Textbooks can only teach students so much. Sometime teachers get the opportunity to go beyond classroom learning with books. Recently, Mr. Peterson took education to another level by taking all of his Zoology classes, a total of 44 students, to the Loveland Living Planet Aquarium in Draper, Utah on November 16th.
"I think it is a great opportunity to see a lot of the animals we've learned about in Zoology," said Peterson. 
Zoology student study about the members of the animal kingdom and animal life in general. "I like to think that Zoology is a class that allows students to be exposed to a lot of animals they've never heard of or seen," said Peterson.  
Earth is home to billions of plants, animals, bacteria and all types of living things, and learning about them all can be daunting.  "The aquarium is a way to make it more real," said Peterson.
Mr. Peterson's students appreciated the outing, and senior Olivia Baird felt the trip was very educational. "Talking to the staff and getting to hear about what goes on behind the scenes at the aquarium was the most educational part of the whole trip," she said.
Student took in many different exhibits at the aquarium, some being more interesting than others. Sharks have always captured the collective awe and fascination of anyone thinking about the sea, including senior Wyatt Crogg. "The shark tank caught my attention because there were big fishy [sic]."
While most students found the aquarium to be the most fun part of the trip, Ridge Neild enjoyed the food the most. After the visit to the aquarium, the bus stopped at a nexus of fastfood, giving the students the option between Zuppas or In-N-Out.  "In n Out went hard," said senior Ridge Nield.  
Food, travel, friends, and fish. What could be better for a day at school? This field trip has become an annual tradition for Mr. Peterson and his zoology classes, one he plans to continue for years to come.