Highly Anticipated Basketball Seasons Underway
Basketball starts this week, a season anxiously anticipated by many boys, girls, coaches and parents excited to watch and see how this season turns out. Tryouts took place the week before Thanksgiving, and many ballers, both girls and boys, showed up to show off skills they had practiced all year long in hopes of making the team.
Coach Kabonic stepped down as the Braves varsity coach this season after three years, handing the reins over to SVHS alumnus and former Braves player Mitch Schwab. Kade Erickson has returned to coach the Lady Braves. After losing three seniors from last year the Braves still have some amazing returners fans can watch one more season like Jacob Hodges, Ridge Neild, Taft McClure, Luke Linford, and Croix Jenkins.
"I am excited to be a senior and have a chance to lead the team to another state championship. I need a ring for each hand, but  I am also sad it's my last year. Might as well go out with a bang." Taft McClure
One of the new kids on the block, junior Max Jensen, joins a host of talented players new, or mostly new, to varsity. "I am excited for this year because of the desire we all have to win and how competitive the whole team is. I am also excited to join a new team because of the great coaches and teammates," said Jensen.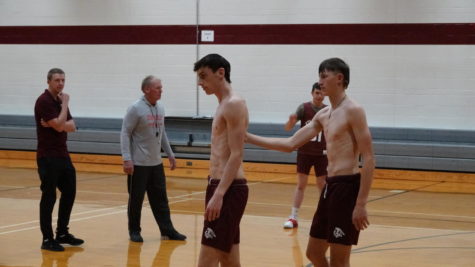 The Lady Braves lost five seniors last year, but they have some strong returning talent in Cameron Erickson, Maddie Hale, and Anna Olenslager  who will show their senior skills. Many new, eager freshman have shown up, excited to finally play some high school ball. "I love playing basketball because of the bonds I make with my teammates. I also am looking forward to seeing how I progress throughout my high school career and hopefully get a state championship by the end of high school," said freshman Ambrey Nelson.
The cheerleaders are amongst those most excited to cheer on the Braves this year. "I am looking forward to this upcoming basketball season because we don't have to be out in the cold cheering," said junior cheerleader Emma Hunsaker.
Not only do seniors bring needed experience and leadership to the teams, but they also play each game, knowing that this season will be their last. "This season being my last, it's a little bitter-sweet but I am really excited for one more year as a Lady Brave. Basketball is my favorite sport, so it is really fun to play, and I love spending time with my friends throughout the season," said senior Cameron Erickson.
The teams began their season in Riverton on December 9th and will hope to play the last game of their seasons in March in Casper.