Transferring High Schools Takes Adjustment
Nobody wants to move high schools in the middle of the year. Unfortunately I had to.
I recently moved from a 2A high school in Pavillion, WY near Riverton to this 4A high school in Afton.  I have been at Wind River since kindergarten, so this change has been a difficult one for me. I immediately noticed some big differences between my old high school and my new one, some good and some bad.
SVHS has a lot more kids in the hallway and classrooms. At Wind River the hallways seemed packed; however, when I came to Star Valley I gained a whole new idea of what packed hallways look like.
At Wind River everyone knew everyone; we were all like a big family. Students at SVHS don't get that opportunity to know everyone because of the size of the school.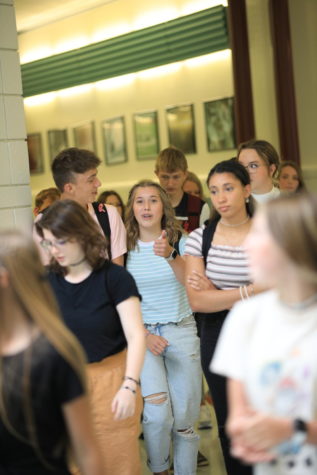 We were lucky in Wind River if we could field full JV and varsity teams, while students have to tryout for sports here. I have never had to try out for a team and have always started on varsity at Wind River. Now that I want to play basketball at Star Valley, I am going to have to work 10x harder than I would at Wind River to make the team. Having said that, Star Valley provides lot of opportunities that my other school did not provide, sports included.
It's November here and there is already so much snow on the ground! Pavillion barely gets any snow until about the middle of December. Everyone keeps telling me that this is nothing, and how I better prepare myself for loads upon loads of snow in the months ahead. On the plus side, the wind in Pavilion blows almost every single day, all day long. Getting away from the wind here is nice, but it may not be much better with all of the snow to come.
Changing schools is not ideal for anyone, but I am adjusting to it. Star Valley is an amazing school and I am very grateful that I get the opportunity to go to school here. Wind River will always be apart of who I am, but I am very excited to be apart of the Brave Nation!