Seniors Lead Squad of 28 Cheerleaders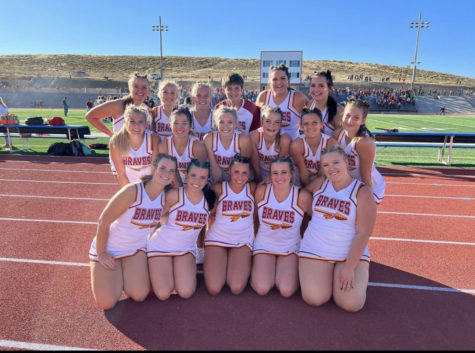 This year's cheerleaders tried out for the squad at the end of last school year, an early start to get ready for the big year ahead of them.
The team of 17 varsity and 11 JV members worked all summer holding practices on Tuesday, Wednesday, and Thursday from 7-10:30 am with only a few select weeks off for vacation.
Junior Maddie Smith and senior Brightyn Johns serve as this year's captains under a new assistant coach, Lacy Hilton. Last year's head coach Stacey Rappleye still holds her position.
The whole squad showed off their skills they developed all summer at the first day of school assembly and have already made their appearances at many freshman, sophomore, JV, and varsity football games.
The varsity squad traveled to Bosie State where they cheered for the Braves on the famous "smurf turf." The cheerleaders look forward to state season in January and hope to bring home a title.