SVI Crew Mixes Fun with Work
Have you ever wondered what it is like to work behind a camera for SVI Media? Despite popular thinking, working at SVI Media is much harder than you might think. Standing for an entire football game in the snow is an experience, for sure, but traveling to away games is when the fun comes out to play before work.
This past winter, SVI went to Riverton to film the regional basketball games. Before one particular game, the crew had to wait two hours before it started. Gabe Daniel, Alysha Tolman, Torrie White, and Dallas Tolman settled in to pass the time. While waiting, Dallas and Gabe were throwing around a small football, not thinking that it would cause any trouble. A few minutes later, a janitor working for Riverton High School came up to them and told them not to throw the football inside.
"The guy was crazy! He was a male Karen, and it seemed that wherever we were, he was there as well," Daniel recalled. "The same guy got us in trouble for throwing a snowball." Despite all the trouble the film crew seems to get into, they have some fun in the car, too.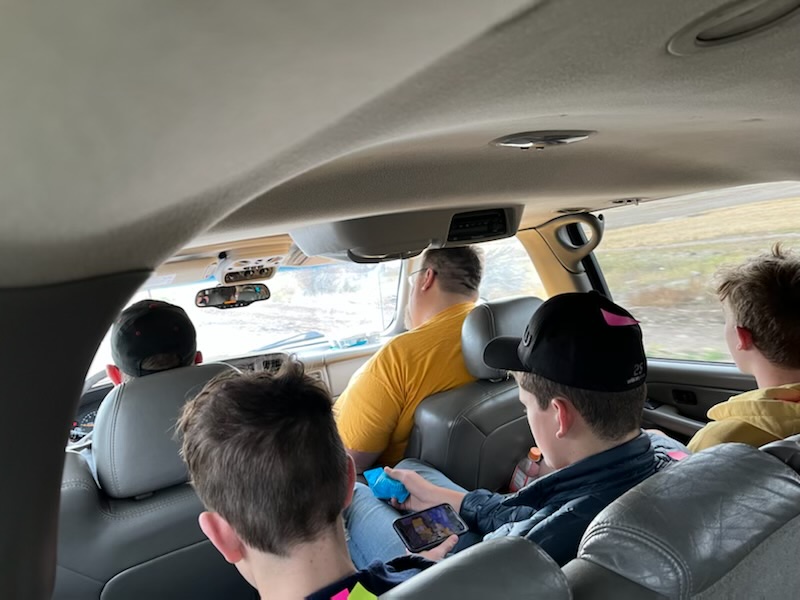 When driving, the staff keeps buys playing tricks like sticking notes on each other. "It's so funny seeing the boys react to finding sticky notes on them," said Alysha Tolman. "They really bother the boys."
The crew also bets on the upcoming game's score. The winner gets a surprise candy from a gas station, presented by producer Mr. David Cazier who also works a principal at Swift Creek High School. "We all got a kick out of the gummy pizza Dave bought me for having the closest score for the football game," remembered sophomore Kida Southam about the funny moment.
But it's not all funny moments. Some of the memories made came when filming. Dallas Tolman said, "My favorite moment was when I got a clip of Winston Greene's touch down." This memorable scoring play came against Lander during last year's football season.
"Those moments stay with you, all those laughs and happy memories you make. You keep them," said Alysha. SVI Media may seem like a serious job until those happy moments appear.