England to Play Soccer for WWCC
Soccer may have ended for many seniors in May, but for Sharon England, it's just beginning.
England recently signed with Western Wyoming Community College to go play soccer on scholarship.
"My older sister has played soccer all throughout her life including college. I hadn't had much interest in playing until high school. I wanted to get involved, and I felt trying out for the soccer team was in my best interest," said England.
The Lady Braves had a tough season, but that did not ruin the experience for England. "The most fun part about soccer is playing with all the girls that you usually wouldn't hangout with, getting to know each other and work together is the funnest thing."
Anyone who has ever tried to run and control a soccer ball while someone else tries to take it knows how difficult the sport can be. England took the challenges in stride. "The most challenging is definitely the mental block when you condition or lose. I believe that it ultimately just strengthens the team."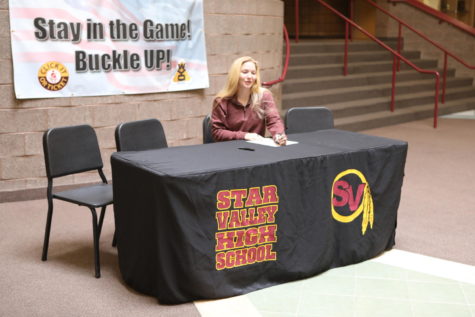 The Lady Braves will miss England's presence and contributions, but their loss is WWCC's gain.