SkillsUSA Team Participates During Spring Break
Over spring break, the SkillsUSA team traveled to Casper to compete in the state competition.
SkillsUSA is a partnership of students, teachers and industry working together to ensure America has a skilled workforce. The organization helps students prepare for careers in trade, technical and skilled service occupations.
Senior April Davis said that her favorite part about SkillsUSA is "seeing people actually being able to compete in intellectual things rather than physical things."
This year, seven students competed at the state competition for SVHS, Amalie Scherbel, Alexis Perry, April Davis, Onnika Olsen, Nick Jardine, Maggie Daniel, and North Davis.
Scherbel took home first place honors for Prepared Speech while Alexis Perry took first in Advertising Design.
Even when they weren't competing, they were still having fun. "Hanging out with everyone between competitions was one of my favorite parts," said Senior Nick Jardine. "I brought my guitar and played for everyone."
Even with the competition being held over spring break, the team was still did well. Mr. Balls, advisor for the SVHS Skills USA team said, "The students did very well this year.  We did not have nearly as many kids compete this year because the State Championships were held over our spring break. These kids put in a lot of time working on their competitions and also completing service projects and fundraisers outside of school."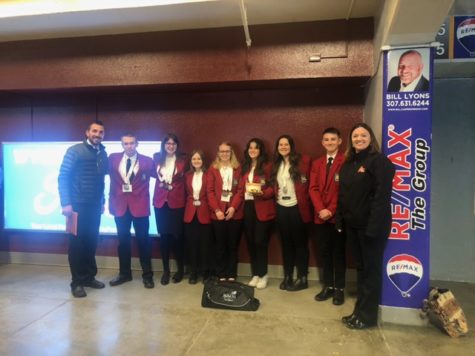 The SVHS SkillsUSA team showed extra dedication in representing the school by showing up during spring break. Each participant learned valuable technical and academic skills that will help them become more employable in the future whether college-bound or headed for the workforce.