Lady Braves Take Play to Next Level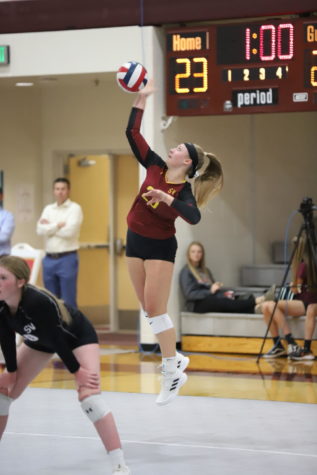 Some athletes are good enough to play at the varsity level in high school, but very few are  good enough to play at the next level beyond high school.
On April 4th two students athletes signed to attend Lane Community College in Eugene, Oregon this fall: Sara Mcken to run outdoor track and Mckenna Frazier to play Volleyball.
Sara has run track for 5 years now starting in middle school, setting and breaking school records along the way. She has currently broken the 200m, medley relay, and the 4×200 relay in indoor track. For outdoor track she has broken the 4×100 relay recorod. Mcken will soon participate in her 3rd yWyoming state track.
Although not quite sure what she will be major in at Lane College, Mcken is leaning towards elementary education.
Frazier plans to major in computer science at Lane while playing as an outside hitter on the volleyball team. She has attended three straight Wyoming State Tournaments but only played two of them because she got hurt her junior year."I have been playing for about 9 years; my mom also played volleyball at the college level at Northwestern, and I would love to be following in her footsteps," said Frazier.
The two SV kids will be rooming together in Oregon this fall and are excited to start the next chapter of their lives.