Braves Look Back on Successful but Bittersweet Season
On March 10-12 the boys basketball season came to an end.
After finishing the regional tournament in 2nd place, the boys faced off against the Kelly Walsh Trojans for the first round game at the state tournament. They came up just short vs. the Trojans losing 49-39. Second round they beat the Natrona County Mustangs 64-35. They had the opportunity to go up against the Riverton Wolverines for the consolation championship. Playing as hard as they could, the boys just couldn't get the win and lost 59-38.
With an Even Steven record of 13/13 for the season, the Brave were ranked the 2nd team in the 4A Southwest region. Looking back, Coach Kabonic saw a very good season for the boys.
Senior Tate Frome was sad to see the seson end. "My favorite part of basketball was just being able to be with my boys. I can't believe this season is already over," said Frome.
Junior Jacob Hodges is excited to play these hard teams again next year. "Our toughest game was definitely Century [Pocatello, ID]. They had a freshman who was so good; who kept scoring on us. I'm excited to play then agin next year and see if we can beat 'em," stated Hodges.
Even thought he boys didn't finish the season like they had hoped, they competed well in a season full of tough games.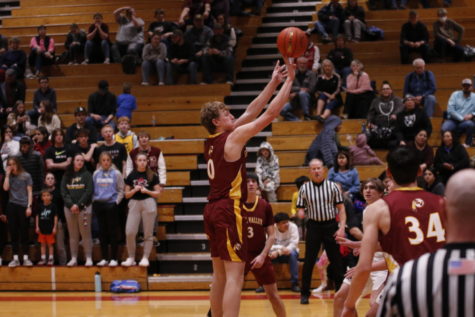 Upcoming Senior Derek Astle has already started preparing for next years season. "I'm so excited to be able to ball with the boys again. I need to work on the fundamentals and not turning it over," said Astle.
The state tournament didn't go as the team had hoped, but hopes are still high for a great season next year.