Debate Duo Slays with Words
Speech and debate proved that "the pen is mightier than the sword" as they paved their way to glory at state. The team has been hard at work since November, working harder and harder to prepare for the competitions leading up to state. When the state tournament started on the weekend of March 11th, the team traveled to Riverton and certainly did not disappoint.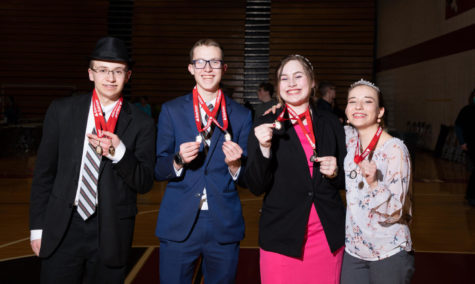 Not only did the team have a blast with inside jokes and time to get to know each other, but they also brought home medals. Caleb Thygerson and Nick Jardine won first place in all classifications for their duet. "Going in and just kind of winning a lot [was my favorite part]. That was really cool," said Jardine.
Coach Kaite Roberts said, "It was amazing to watch our policy team of seniors, Nick Jardine and Caleb Thygerson, go to the top, round after grueling round."
Many team members relished in their time to shine, or rather their time to argue. "In general I like arguing, but being able to construct it into something organized—and trying to convince someone at the same time—that made it fun," said Thygerson.
"If any of you readers are thinking about giving speech and debate a try, do it. This program builds life-long skills that you will use way more than Geometry," said Coach Roberts.