Jazz Band Kills at UW Jazz Festival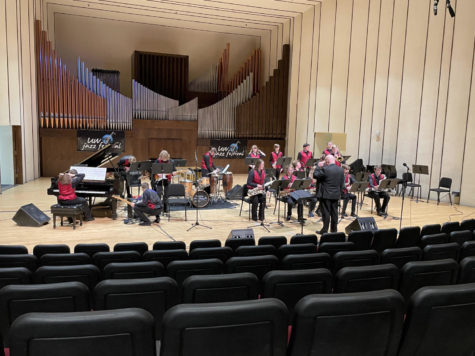 The jazz band recently took their show on the road to the UW Jazz Festival on Tuesday, March 8th, and they showcased their talents admirably, earning the highest ranking possible. "We were the highest scoring 3A jazz band of the festival," said band director Kurt Sand.
The band performed four different numbers: Abracadabra, 'Round Midnight, The Big Band Theory, and Break Glass. Many band members call "Break Glass" their favorite.
Many musically talented students  love getting the chance to preform and show off their talents. Senior Westley Bateman said, "Going somewhere to have your musical ability judged is slightly scarey, but it felt good knowing that someone else recognized the work that we put into performing our songs."
Participating in band is like being a part of any other group or team at the school. Musicians invest a lot of time and effort into their craft so that they can always perform their best for the community and in competition.
Traveling is also a great time to make memories. "My favorite part other than preforming is the games that we played on the bus ride there, playing in the hotel pool and getting to know my fellow jazz band members better," said Freshman Emily Call.