Food, Football Make for Fantastic Superbowl
On February 13th one of the biggest sporting events in the world took place, the Super Bowl. In the 56th Super Bowl the Los Angeles Rams beat the Cincinnati Bengals 23-20 in a hard-fought battle. Aaron Donald sealed the game with a late sack on the Bengals quarterback Joe Burrow.
For some people, it's all about the game. For some people, it's all about the food. "All the food is probably my favorite part about the Super Bowl," said sophomore Kash Lancaster. For other people, it's all about the betting.
Lots of betting surrounding the event ranges from the color of Gatorade that gets dumped on the coach to the length of the National Anthem. Famous rapper Drake won over 1 million dollars after cashing out on of his bets. Junior Peyton Andrews said, "I won $100 for predicting the final score correctly."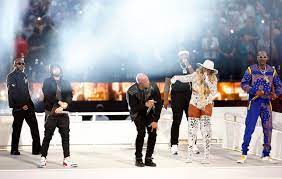 Another favorite part of the Super Bowl is the commercials that air during its broadcast. Big brand names such as Squarespace, Taco Bell, Fritos, Crypto.com and T-Mobile all landed big time commercials with big time celebrities. Mason Brown said, "The BMW commercial with Arnold Schwarzenegger was my favorite" The commercial featured BMW's new all electric vehicle. Super bowl commercial time is known for being expensive. This year, a minute of airtime cost advertisers about 13 million dollars.