Beautiful Sound, Orchestra Fill Auditorium
The orchestra recently held a concert on February 2nd to great success!
The chamber orchestra performed a piece called "Lion City" by Soon Hee Newbold where instruments imitate other instruments to make a variety of new and different sounds. "It was beautiful and a wonderful experience!" said senior Harvest Kinn.
The orchestra is led and taught by both Mrs. Barber and Mr. Bravo, and, of course, there is a lot more that goes on behind the scenes of these concerts than the audience sees like the hours of practice, hard work, and dedication. Every student who participates must persevere to develop their talent.
It takes a lot of time and commitment to get good at playing these instruments, and many of these students have been playing for most of their lives. Senior Amory Crook said, "I play the violin and the viola, and I've played the violin for about 9 years and the viola for about 2."
All of this hard work tends to pay off in the end. Not only do they give the community amazing concerts, but they are also able to earn awards for their talents. Sixteen students made all-state this year, with many of them sitting in the top 10 and top 5 of their sections.
Senior Sydney Beeson has also spent a lot of time perfecting her talent. "I've played the cello since I was 10 years old, and even though it has been a whole lot of work and taken a bunch of my free time, the end result is really amazing!"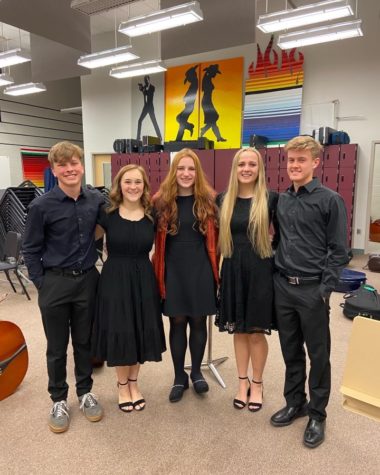 The school orchestra usually performs three concerts a year. With two down, a third is planned at the end of the year in April. Orchestra concerts enrich the lives of all who attend. "It's so cool to hear all of the different instruments and their parts harmonize and blend with each other and make something truly beautiful," said Beeson.