Lady Braves Open Against East Teams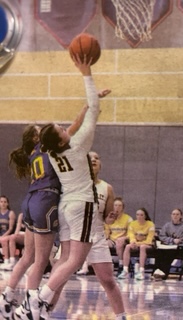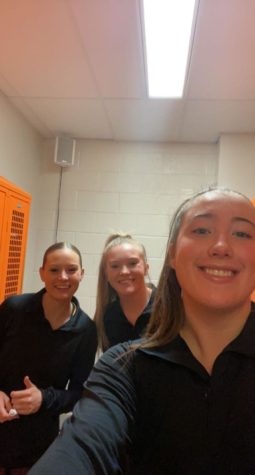 Last year the Lady Braves ended their season 1-2 in Casper at the state tournament. After a loss to East in the first round, they came back and beat Central by 1 point. After the win they lost to Thunder Basin in their last game of their season.
Five seniors played on that team leaving only two returning varsity players for this season. Amber Milne and Cameron Erickson both contributed to last year's team and their success.
In all, seven seniors will made their varsity debuts on the first weekend of basketball in Riverton on December 9th. Five of those seniors—Amber Milne, Mckenna Frazier, Kamryn Jenkins, Whitnee Hale, and Olivia Engelhardt—are all returning players from last year.
The other two, Gracce Cazier and Mia Hutchinson, will join their teammates and add to the team's experience. Cazier played as a sophomore but due to an injury was not able to play her junior year. She decided to come back and finish her last season as a Lady Brave off strong. Mia Hutchinson played club volleyball her junior year but also decided to come back for her senior year. In addition, junior Cameron Erickson and sophomore Kenlee Engelhard will contribute big minutes this season.
The Lady Braves started their season in Riverton against the #1-ranked returning state champs East T-Birds. Milne, Hutchinson, Cameron Erickson, Engelhardt, and Hale started the opening game.
East came out strong and hard against the Lady Braves, and there was some miscommunication at times, which is expected early in the season. "I was super nervous for the first game. We knew they were gonna be really good," said Hale. "We struggled at times, but now we know what we need to get better at."
Frazier ended the game with a team-high 12 points. "I just wanted to go out and work hard for the first game," said Frazier. "I feel good about my performance for the first game and want to continue to get better with each game."  The T-Birds ended up winning the game 51-37 with the East.
In the team's second game, Frazier again scored the game high for her team, this time with 8 points against the Central Indians. During that game Cameron Erickson was injured on a drive to the basket. "The first weekend went pretty good. It was nice to play tough teams and even win a game," said Erickson. "I felt pretty frustrated after getting hurt, I've been super excited for basketball season to come since it's my favorite sport. Getting injured is setting me back a few more weeks, but hopefully when I come back I can play without it bothering me."
Erickson fractured her fibula after taking a wrong step on her leg. After a tight game that came down to the wire the Lady Braves ended up beating Central 29-26.
The final game for the Lady Braves at the opening weekend tournament came against Sheridan, a game they lost 40-24. Hutchinson led her team with 8 points. After a long weekend playing top ranked teams, the Lady Braves know more of what they need to focus on to become better, with scoring more a main priority during their practices.
"The first weekend was a great gauge of where we are at and what we need to work on," said head coach Kade Erickson. "Overall, we played well, just making those adjustments for the girls who haven't played together."
There are a lot more basketball games to be played and a lot of improvement to be made. A new season with new players takes a big transition and learning curve. "I'm excited about working with all the girls within the program and seeing our progress. We have a great group of girls that get along well. That makes it fun for a coach," said Coach Erickson.
With a lot more basketball to be played, the Lady Braves are excited to work hard to become better and do what it takes to have a successful season.