Model UN Alive, Well Online
Model UN is an educational simulation of the United Nations where students learn about diplomacy, international relations, and the United Nations. This program has been going on at Star Valley High School for eight years and is coordinated by Ms. Stauffer.
The last two years of Model UN, however, have looked a little different due to COVID-19. Like last year, the Model UN competition will take place online this year. Pre-covid, the event was held in Jackson. "It's kind of unfortunate it is online this year again because it is so much more fun in person," said Ms. Stauffer. This two-day event begins on November 15th and 16th at the high school, and nine students will participate.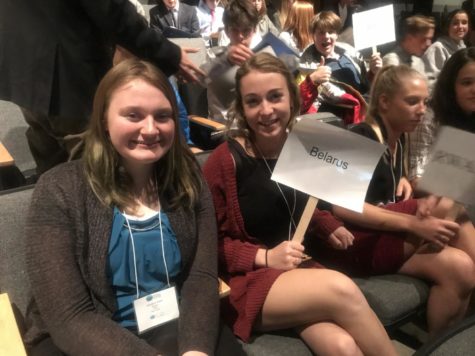 Each student is part of a committee that represents a real United Nations committee where they debate two current world issues. For example, the Human Rights committee will talk about worldwide racism and the ways that different countries are dealing with these issues. There is also a committee on Women's Rights that will discuss sex trafficking and women in leadership. The countries in each discussion try to figure out how each can affect and deal with the assigned issue.
This extracurricular activity is available to all high school students who are interested in increasing their diplomacy and negotiation skills. To be a part of this club, students spend Tuesday after school studying their assigned country. They do a little homework and research to understand their country and its problems. The goal of Model UN is to solve various world problems through discussion, and negotiation & debate.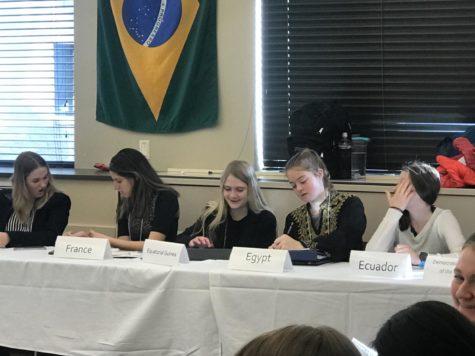 Model UN gives students an opportunity to learn things that they normally would not learn in high school, and participation looks good on college resumes as well. "I definitely suggest this program to other students. It looks so good on college applications. Even though it is some extra work, it is really worth it," said senior Gracilynn Ward.
Model UN involvement helps students have further their leadership and communication skills as well as their understanding of the world and its current issues.