Retro Bowl Taking Phone Gaming by Storm
The top free game on Apple's App Store right now has over half million ratings for a whopping 4.8 stars. Retro bowl is one of the most popular games in the school right now.
It seems like in every corner you look someone is playing Retro Bowl. This game is based on a popular American football game that a lot of the teachers probably played as kids called "Tecmo Bowl."
Retro bowl is a fun and intense game on the right mode. Players can switch the game to different modes like easy or hard, but the most intense one is dynamic. This means that the more games you win the harder the game gets, making  gameplay very addicting. "Retro bowl is so additive. I play at least four hours a day during the week, on the weekend probably even more," said junior Cooper Kabonic.
The free game version limits salary cap while those who spend the one dollar to get the unlimited version which can raise their salary cap and get more coaching credits and five star players.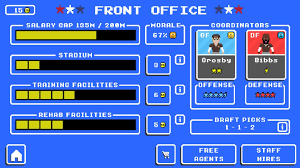 Teachers may hate this game because it seriously distracts addicted players, but students love it. No doubt a new fade game will replace Retro Bowl at some point, but for now, players can't keep their hands off it.