Lady Braves Fall to Natrona in Conference Title Game
Over the weekend Oct 29th, the Lady Braves battled their way through the regional tournament and ended up playing their way into the championship game.
Unfortunately, the tough game ended with the Lady Braves taking 2nd place out of the west region. Even with the home court advantage, they were unable to tame the Natrona Mustangs. "The team lost a hard one to Natrona County. It hurt to know that we went out leaving that on our home court like that," said senior Kamryn Jenkins. It was a big upset for the team, but the loss gave them the determination to come out of it even stronger and go fight at state for the 4A state title in Casper over Nov 4 through 6..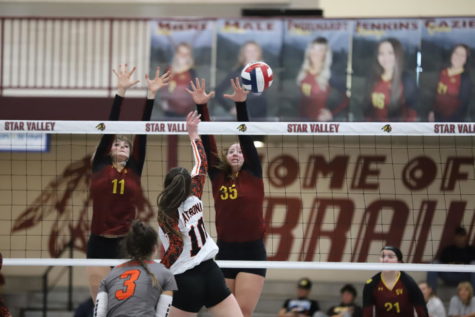 Eight  teams compete in the 4A west region: Natrona County, Cody, Jackson, Evanston, Rock Springs, Green River, Riverton and Star Valley, and they all played at the regional tournament, hosted by Star Valley, for the four spots available in the state tournament for teams from the west side of the state. This year Natrona County took the win with the Lady Braves 2nd, Rock Springs 3rd, and Cody 4th.
Teams host the regional tournament every 8 years, but with SVHS's move from 3A to 4A, this is the first time it has host regionals since 2009. "It's an opportunity for our team to have home court advantage, increased fan base, sleep in their owns bed and a regular schedule. [Hosting] showcases the school's facilities and allows the community to reap the financial benefits of housing and feeding the teams and fans," said athletic director Mr. Rob Erickson.
Between games, teams were able to even go and serve our community during the long breaks. Green River went and walked dogs at Luckies Place in Bedford.
Although the home team lost in the championship game, they enjoyed big, loud crowds full of superfans and a chance to show the state what SVHS volleyball looks like up close.