National Qualifiers Return to Lead Speech and Debate Program
Speech and debate season is starting up again soon with the top performers and debaters hoping to go to state and national tournaments.
Two years ago one debate team of two members—Nick Jardine and Caleb Thygerson—made it to nationals, and last year three individuals qualified in four events. Of those three, two will return to compete on this year's team,  Gabe Daniel, the junior class president and "Interp Jester", and Priscilla Greenwell, the "Grand Duchess" of speech. These four national qualifiers will return this year to pass on their experience.  
Gabe Daniel took the speech team by storm in his first year getting all sorts of awards for his piece "Al Literation: Private Eye" by Forrest Muscleman, and he won many tournaments and placed in state. He did even better last year though, getting 2nd place in 3A and 3rd place overall at the state tournament on top of a series of first place tournaments, all with his piece "Shrinkage" by Andrew Messer. 
Daniel still has two years to do what he does best: make people laugh. And as the "Interp Jester" he will help all of the incoming students learn what makes a person and a script good. He plans to focus his efforts on being the best interp captain he can be. "I'm really looking forward to this year; we've got a lot of new people coming in, and I'm looking forward to passing what I know on to them," said Daniel.
Although Daniel enjoyed a quick upward trajectory from the start, Greenwell had to progress more slowly. Her freshman year Greenwell did a duo piece with Madysin Brown titled "Romeo Revised" by Wade Bradford, and took 3rd in a many tournaments. A hard sophomore year followed with  the duo performing another piece called "Confessions of a Facebook Addict" by John Hawk, Jr. and Nick Yaksich they placed with only a couple of times.
Always one to double-enter, as a sophomore Greenwell also did a drama piece titled "The Last Promise" by Mia Karr. This piece was good, but Greenwell wanted to reach new heights. Last year she had a massive surge in momentum and learning, going to nationals in multiple events, including with a drama piece "Three Little Words" by Krista Boehnert and an informative she wrote titled "Illusions". 
Greenwell plans to put in all of her effort this year as head captain of the team. "I think that each year I get a little bit more confident and a little better at what I do. I think this year I will do fairly well, but I am almost more excited to be able to compete in person and meet new people," said Greenwell.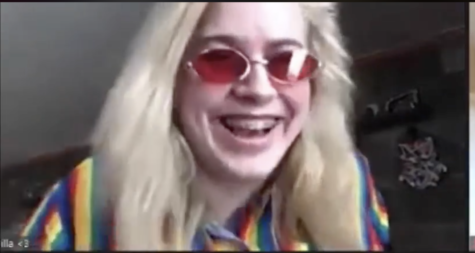 It is uncommon for anyone to qualify for nationals from a school this size. Hopefully, these returning mentors and national qualifiers will push for more success in the future of the speech and debate program.