FFA Members Give Anonymous Service
Crowds throughout the school are aware of when football, basketball, wrestling are in season because the crowds get loud to support the students competing. When FFA starts to compete, however, the members are likely the only ones that know it.
The FFA season consists of traveling around the state to compete in competitions of livestock and mechanic judging. "I love going to the competitions and meeting all the new people and being competitive," said senior Irissa Guyett.
Members find many ways to support and be apart of the community. "At the Simplot Safety day for the fifth graders, some members took kids around to the stations and some stayed at the stations to help," said sophomore treasurer Lyndsey Lawson.
FFA students also volunteer at the Afton food bank doing simple services when needed. Last February after a big snow storm they went and shoveled the sidewalks in Afton.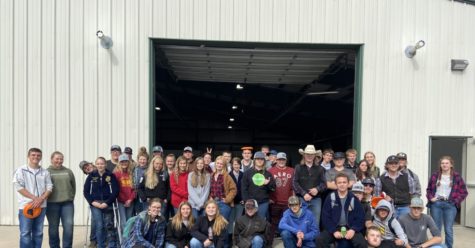 The FFA program is organized with a presidency for leadership who take responsibility for helping the program to grow and for the members to develop leadership qualities, this  according to secretary Demri Nebeker sentinel Ally Kopcho.
"The amount of responsibility is a big step up from reporter and even more so from being just a member. You have members looking to you for guidance. And as you are president you are the face of the organization and have to call and help organize the meetings, which is quite intimidating at first. Soon it all becomes second nature. I have been blessed with an amazing officer team who truly does help me in so many different ways,"  said FFA President junior Madison Carey.
The FFA Presidency loves their jobs, and the members stay busy finding ways to learn, grow, and show civic responsibility.