Who's Going to Fill His Shoes?
A song recorded by country singer Geroge Jones titled, "Who's Gonna Fill Their Shoes?" questions who will replace the country singers of the mid to late 1900's who left a big impact on the genre. Star Valley has a similar question but in reference to our athletes. SVHS has had its share of exceptional athletes in the past who leave legacies new athletes must match or surpass. In recent years, the cross country and track teams have had Peter Visser to chase, in terms of both performance and character.
Visser is one of the best runners this school has ever produced. "Obviously Peter is one of the most talented athletes to ever run at SVHS. He holds multiple state and school records from the 4×800 relay to the 3200," said Coach Ty Draney. Visser left behind some large shoes to fill, even for the current talented athletes.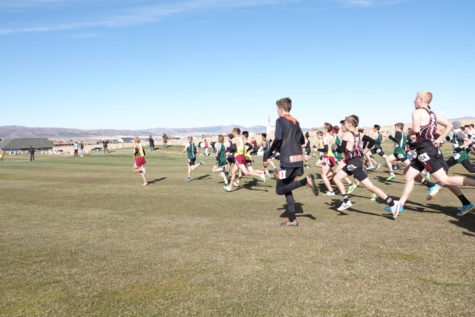 The entire team is still emulating Visser's character and endurance. "We appreciate his efforts and talents, but now we are focused on each member of the team achieving and being the best they can—maximizing their potential as runners and as human beings," said Draney.
Freshman Habtamu Wetzel said, "Last year seeing Peter smoke everyone in cross country and track, it made me more proud of living in Star Valley, and it also makes me realize the legacy of fast runners that have come out of Star Valley and the legacy coach Draney and our team are trying to continue this year at state." All of the runners are focused on doing their best in this season, especially with state right around the corner. 
Though Visser was one of the fastest runners to go through this school, some members of the team are trying to replace his achievements with some of their own. "I like to focus on the present and future and not dwell on the past and those in it," said senior Sara McKen.
The team has strong potential for the future as well. "Nearly 3/4 of our athletes are underclassmen, and so we are gaining experience each week and improving.  We love the energy and effort that both the boys and girls teams are bringing this year. We are looking forward to seeing how we stack up with the rest of the 3A teams at the end of the month as we prepare to move to 4A next year," said Draney.
Will the school ever have another individual runner who will run on the same level as Visser? Predictions could be made, but in the words of country singer Kenny Chesney, "Only Time Will Tell".