Foreign Exchange Students Bring Excitement to SVHS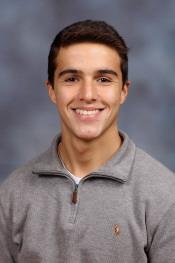 Coming to a new school is exciting on its own; add a new country, and a new language and foreign exchange students are in for a whole new realm of emotions. Two foreign exchange students, both from Europe, joined the ranks of the student body this fall.
Irene Maione, from Italy, currently participates on the cross country team. "I'm super glad to be on the team, it is fun."
Outside of running, Maione has had to settle into the classroom as well. "I really love the school. It is completely different from Italy. We can't chose our classes there. And there are a lot more options and subjects here that we don't take at home, like photography, weights, world history and stuff like that," said Maione.
Our other foreign exchange student is from Spain. "I really wanted to come here to improve my English, learn about the people, and learn about different culturess" said Alberto Rodriguez-Perez.
Coming to a new school and a new country has its hardships, especially being so far away from family. Both Maione and Rodriguez-Perez miss their family and friends back home.
Other hardships that come along with being a foreign exchange student is the learning process. "The biggest thing that these students struggle is learning a new language," said counselor Reed Lesuma. "Not only that, but there is also a huge level of culture shock that they are not used to. We try our best to keep them involved in our school. We try to have them do other activities like after school clubs or sports," Lesuma continued.
These students are eager for a new adventure and experience at SVHS and will have an easier time doing that as they make friends and settle in. If you see them in the hall, say and hi and get to know them. You will learn as much from them as they do from you.