Home Football More Than Just Game
Football games are more than just football. They are an opportunity for football players, super fans, cheerleaders, band members and spectators to come together.
However, football games are also an opportunity for battling football teams to find unity. "I think as a team we could have played better, but our student section was awesome and having everyone come to watch was awesome. It was great being on our home field and hopefully we can win next time," said senior varsity football player Lucas Chappell about his team's first home football game.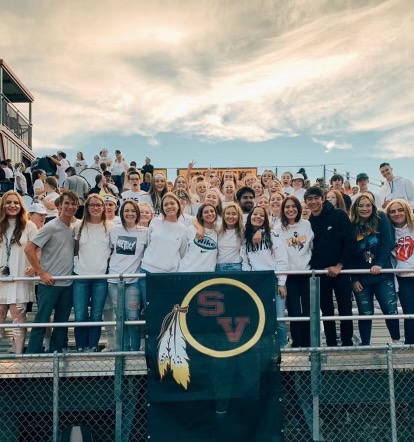 Football players aren't the only people engaged on game day, "It was super hype, so many people dancing and cheering." said senior super fan, Dylan Johnson.
Since the game was delayed it offered an opportunity for both teams to meet in the middle of the field for a dance off. Many of our own football players, Kayson Haderlie and Harrison Hoopes, joined in the dancing and made the best out of a small power outage. "I thought it was super cool how we showed that football is more than just a game," said junior Kayson Haderlie.
It isn't rare for Star Valley athletes to develop relationships with the other teams since their coaches constantly stress the importance of sportsmanship and respect for other teams. Many noticed the special the interactions between the two teams, especially approaching the 20th anniversary of 9/11.
"Cheering at the home football game was super fun. The crowd was so involved so it made it a better experience for us. When the game got delayed, we still had a good time on the sideline and kept the energy," said junior varsity cheerleader Lauren Erickson.
Our first home game gave many people a huge opportunity to show off Star Valley sportsmanship, home crowd support, and team unity. Football is more than just football.