SBO's Reflect on Unique, Challenging School Year
Students and staff have overcome a lot of difficult challenges this school year that started in the middle of a pandemic and was restricted by many rules and procedures necessitated by covid.
The SBO's worked hard to overcome these trials to make the school year the best that it could be. Much of the year passed with no dances, no assemblies, and no school store.
After following certain steps to make sure the school was being safe, the school started to return to normal as covid cases declined, and the SBO's were allowed to start planning dances and extra activities during homeroom and throughout the week.
The student body's elected representatives worked with parents and the administration to plan prom and make it happen. "I am very pleased with the way prom turned out," said SBO President Emily Strasburg. "I am very glad prom was able to happen and I am so thankful for all the work the parents and teachers put into it."
Assemblies also resumed this spring in the gym and  even in the auditorium at the end of the year for department awards. "I'm really glad things were able to start loosening up," said  2nd V.P Hailey Cram. "I think it made the school year a lot more fun and exciting."
Morp also took place thanks to the hard work of the SBO's. "Morp went really well in my opinion," said Strasburg. "We were able to make it a fun dance despite all the challenges that came up."  Morp was held in the commons and had pretty good attendance which made it a lot of fun.
Spring Sports were also a success this year. Last year when covid broke there were a lot of disappointed athletes not able to participate in a spring sport and many wonderful experiences were missed. This year the spring sports took place and ended successfully. "There was a lot of work put into this soccer season, and I am happy I was able to play one more year before leaving," said Secretary Davis Burton.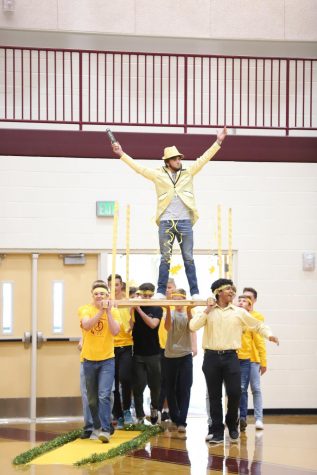 This year might not have proceeded like a normal, but it was one for the record books. Students stayed in school a whole year and were also able to do some of the fun school activities teens love to do. In the end, it was another successful school year, thanks in no small part to the SBO's.