Graduation Approaching for Class of 2021
At long last, graduation will take place on May 25th on the football field at 6:30P.M.
This will be the second year in a row the ceremony will happen outside on Braves Field, a tradition that started by necessity last year due to covid and has continued this year by popular demand.  "I'm excited to be outside, but I'm more excited to get my diploma and be done with school," said senior Tanner Thomas.
Seniors will practice at 9:30 to 10:30 on the morning of graduation estimated to last over two hours. "I'm excited to graduate and start a new chapter in my life. I'm scared but I'm excited to see where life takes me," said senior Tristan Kleeman.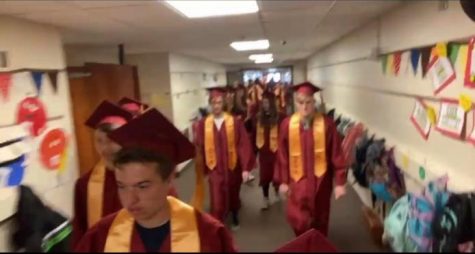 Seniors are excited to graduate and start something new, but the will miss some things from high school after growing up together for the past 12 years. Most friends will part ways and go to different collages, so they have been savoring their time together with there friends. "Its just crazy, 12 years of my life with everyone in my class and just in a few months I won't see any of them anymore. It is kinda sad but I think every classmate is excited to start their own life," said senior Emily Strasburg.
With graduation just days away, seniors will finally make the walk they have waited 12 years of school to make.