Chappell Commits to Play Football at Air Force Academy
Lucas Chappell is only a junior and has already committed to play football at Air Force.
In June of 2019 Chappell moved to Star Valley from Utah. He has been playing football since 2nd grade and has always wanted to play college football. "I've always loved watching football and have either played flag football or tackle football since I was in 2nd grade," he said.
Chappell's goals in football do not stop at playing college football; he hopes one day to make it to the NFL. "I've always wanted to play in the NFL and have put in a lot of effort to get to this point, and I will hopefully make it into the NFL eventually."
Although offered many scholarships from many different schools, the offer from the Air Force Academy really got him thinking. Going to the Air Force Academy will be a huge change and adventure for Lucas but he is ready for the challenge. "I decided to join the Air Force because of all the benefits I'll have," said Chappell "It'll provide me with a lot of opportunities to grow and find something I like to do."
College football is very different than high school. and played at a much higher level. Playing at Air Force will provide Chappell with new experiences, challenges, and growth. "I'm looking forward to playing football at a high level," said Chappell. "It's going to be very fun to meet new people and build relationships with them."
With lots of excitement comes lots of pressure. Although Lucas is very excited for this opportunity, he is nervous for what it might be like to balance sports and academics. "I don't really know what to expect when it comes to football and academics, but I'll be able to get through it and figure it out," he said.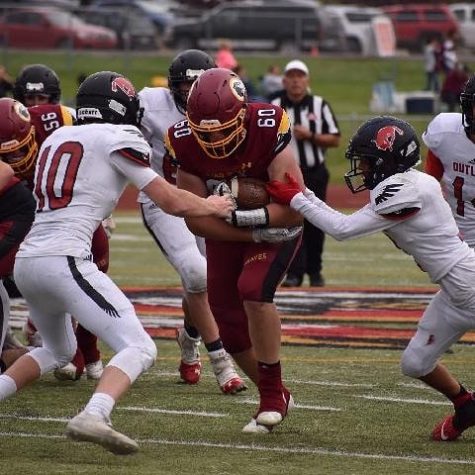 Chappell plans to officially sign with the Air Force Academy next year during his senior year. He will join the Air Force and play for them for four years. After graduating Chappell will serve an additional required five years of service in the Air Force.
Joining the academy wasn't something Lucas had planned on, but when he started to consider the scholarship he wanted to join. "I hadn't really thought about serving my country until I started considering the scholarship offer from the academy," he said. "Now I am willing to do whatever I'm needed to do to serve." After much thought and consideration Lucas plans on staying in the Air Force for 20 years.
After years of hard work and determination, Chappell will be soon serve his country and help the AFA Falcons win.