Lady Braves Upset Jackson for First Ever Win Against Lady Broncs
In what may end up their biggest win of the season, the Lady Braves soccer team faced off against the Jackson Lady Broncs. And won.  With only one win under their belts on April 15th, the girls faced Jackson, the second ranked team in the state, in a seemingly impossible matchup and came out with a win. They have won two games since, but the victory against their northern rivals who are traditionally one of the best teams in the state still means the most.
The defensive-minded Lady braves faced a powerful offense from Jackson, but the team held their ground with multiple saves from Addie Butler between the pipes.
"It was super intense. There were a lot of saves form our defense but some really close shots that I was glad I was able to stop and help our team," said Addie Butler.
The match remained scoreless until the final minutes when Katie Robinson was fouled by Jackson wing player Morgan Duckette resulting in a free kick for the Lady Braves.
A great strike from Emma Thompson went over the goalie, off the cross bar, and into the goal, putting the home team up one to zero as time wound down and giving them the upset win.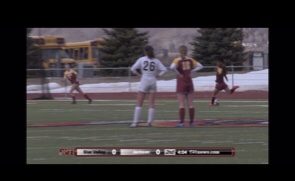 The win against Jackson was the first ever for Star Valley girls varsity soccer.