Speech and Debate Finish Season with State Competition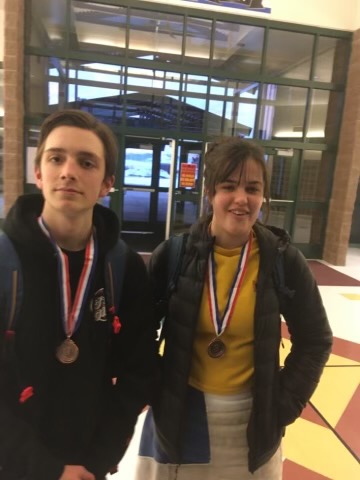 The speech and debate team recently experienced a lot of success at state after a season that, because of COVID, looked different than ever before.
For example, for nationals the team usually holds a fundraiser so they can send the people that qualified to Nationals. This year they will just have to do everything online.
Notably, Jo Scherble was chosen as one of six Wyoming Forensic Ambassadors for the state!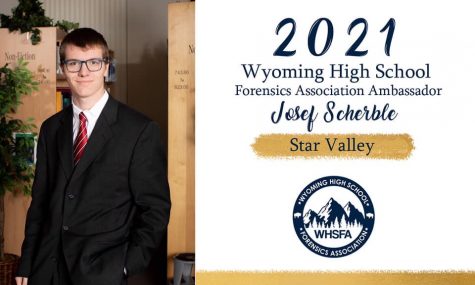 Several students earned all-state awards:
Priscilla Greenwell earned 3rd in Informative for 3A.
Gave Daniel got 2nd in Humor for 3A and 3rd overall (with 4A schools).
Nick Jardine and Caleb Thygerson got 2nd in policy debate for 3A.
Gabe Daniel and Jo Scherble got 3rd in Duo for 3A.
Amalie Scherble was chosen for best legislation.
Ashley Helm, Parker Thompson, and Amalie and Zoey Scherble for Duo made the semi finals.
During this season there were a lot of things that were changed.  "I applaud our students for having such an amazing attitude during this completely online/virtual tournament year. We really bonded as a group in our library headquarters," said Coach Roberts.
There were also a bunch of different people that made this season great, and Roberts shared her thanks. "Stepanie Suloff really helped us feel extra special while staying at home. Coach Julie Lewis was nothing but encouraging and phenomenal on advice and fun. We appreciate Carla Cleverly and all the office staff and admin for your support and encouragement!"
State is a really fun experience for these kids. Junior Onikka Olsen said, "We debated 6 times at state, an hour and a half each time so really intense but really satisfying." Olsen thought they did really well at state. Their motto was "It's not whether you win or lose, it's whether you crush their little souls,"  said Olsen. She said that they accomplished that goal, doing really well in their rounds.
Agt state participants can take part in debate, where you take both sides of a situation or question and write up a case for it. During the tournament they argue for one side or the other. Students write legislation for student congress, go to a session and speak on different student written bills for or against.
On the other side of speech and debate, there is a lot of "interpretive" events. This is where you take a script, cut it into a 5-10 minute piece and perform it with your style and voice. These categories include humor, drama, duo (with a partner), poetry, and POI- a combination of all print. Lastly, there is a platform event where you write your 5-10 minute piece about something you personally care about. It is like a mini Ted Talk.
Overall, the Star Valley High School Speech and Debate team did amazing at state and overall in their season. Make sure to congratulate them in the halls! Coach Katie Roberts said, "Even if medals or accolades are not earned, everyone who does speech and debate comes out a better person for it at the end of the season. We would love to see anyone who wants to share their voice, their talents, or stretch their brain to come and join us next year".
The chance to compete, go to state, make great memories, and sharpen thinking and speaking skills makes speech an attractive organization for any student wanting a chance to have fun, learn, and grow.