Lady Braves Win Opener
On Friday March 19, 2021 the soccer teams played for the first time in two years. The games took place in Green River against the Wolves.
The Lady Braves kicked off at 3 o'clock Friday afternoon while the JV game started at 5 o'clock. Many speculated about the games even happening and did not quite know what to expect of the first game; however, the girls got off to a great start. "I was super excited for the first game," said junior Tess Erickson. "I was super nervous but I'm so glad we won."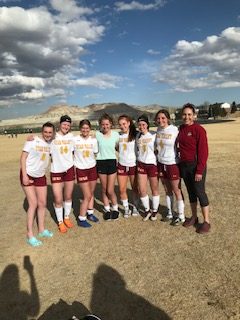 The game started off quickly and the players wasted little time getting shots on goal in the first ten minutes, but many were blocked by the Lady Wolves' goalie. About half way through the first half, a foul in the goal box gave the Lady Braves a PK (a free kick with just the player and the goalie). Emma Thomson took the PK and scored with a hard kick. "I was super nervous," said Thomson "but I am super glad I made it." At the end of the half, the score was 1-0 with the Lady Braves up. "I had a really fun time playing with my teammates," said junior Gentry Hendricks. "It was a super fun game, and I can't wait for what the rest of the season brings."
The second half was similar to the first with both teams getting some great shots on goal. Half way through the second half, the Lady Braves punched in another goal off a corner kick assisted by Bradie Suter. They finished off the game with a 2-0 victory. "I thought I had some good saves that game," said varsity goalie Addie Butler. "I'm really glad we could pull out the win."
"I thought we did really good for our first game," said senior Emily Strasburg. " It was a lot of fun, and I can't wait to see how much we will improve the rest of the season."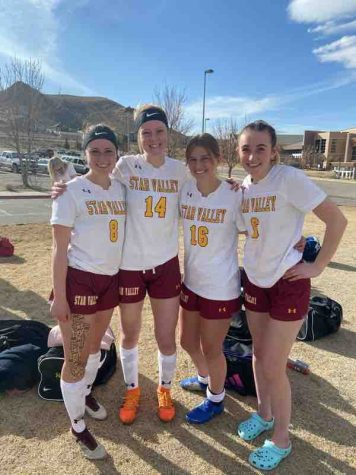 Head Coach Jessica Bagley was very pleased with the way her team played. "I'm thoroughly impressed with the Lady Braves in their game against Green River," said Bagley. "In all my years of playing, that was one of the best days of my life."
This is Bagley's first year as head coach of the Lady Braves. "They played like a team. Every single person who stepped on the field contributed to the team's benefit." The Lady Braves are excited for the rest of their season and to improve each game.