Lady Braves Pick up Win in State Tournament
Lady Braves basketball finished a successful at state in Casper on the weekend of March 12th. Even though they did not capture a state championship, many consider making it to the tournament and winning a game an impressive achievement for the team.
Last year the girls did not even get the chance to go to state thanks to the beginning of the covid pandemic. The team was actually traveling to state when the sad news came that the tournament was cancelled. So making it to the state tournament and beating Cheyenne Central seemed like a great success for the program.
Senior guard Brierly Battleson will fondly remember the bus rides and playing lightning after practice against the coaches from this season. The team made fun memories at state as well. "We all got matching night gowns, slippers and eye covers," said Battleson.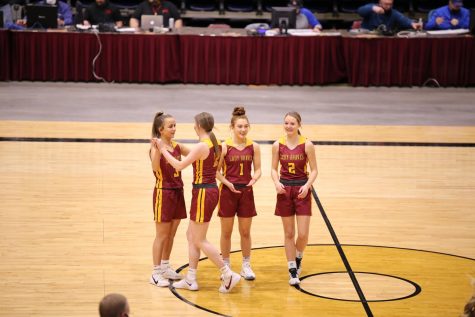 Emma Thomson looks back with fondness on the same thing. Her favorite time at state was "in the hotel with the girls drinking sparkling cider with our matching night gowns."
With reduced travel, state gave the girls only their second opportunity to stay overnight. "I love whenever we went on overnight trips. Our team always knows how to party, whether it be a fat nap or silly stringing or coaches!" said junior Whitnee Hale.
Seven seniors will leave the team behind after this year, including manager McKayla Brog.
Hale said, "I am definitely gonna miss the seniors. They were great leaders and role models and always worked their hardest no matter what."
The season started rough for the Lady Braves who only managed to win one of their first eight games, but they then showed the toughness that would characterize them all season by winning three of the next four. Coach Kade Erickson had a hand in the tough start by purposely scheduling difficult opponents early in the season to prepare the team for everything to come.