Braves Secure #1 Seed for Regional Tournament
Since Riverton beat both Evanston and Green River over the the weekend of Feb 19, the Braves will still get the top seed in the regional tournament even if they loose against Green River on Feb 27th since they beat Jackson on senior night and Evanston the day after Feb 19-20.
Lately, though, the Braves have been winning more than regional games. On a trip on Feb 12th to Casper, the Braves faced off on against Natrona. The game was rough. With lots of fouls and  poor shooting, it seemed like they couldn't get anything going, but somehow the Braves managed to pull out the win by two with a huge three by Tristen Kleeman towards the end and a close missed game winner by Natrona in the end.
"It felt like nothing was going in for everyone, and they were making everything. I'm glad we got the win and I'm glad I got that three to go in at the end of the game helping us out," said Kleeman.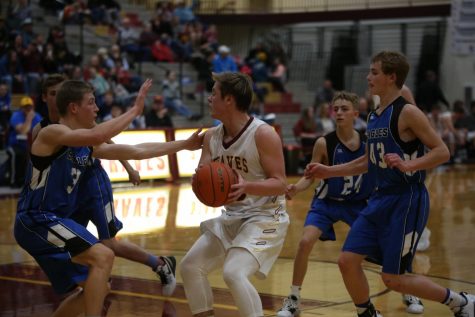 The day after beating Natrona, the Braves headed to Rock Springs to face off against the Tigers for another rough game marked by missed shots; however, the Braves managed to stay close throughout the game. Fatigue played a factor for the road-weary team, but a last-minute shot thanks to great ball movement and an assist from Zach Johnson gave the Braves a two point lead while their defense kept Rock Springs from getting off a last shot.
"I was super happy to win the game. It was a close game, and knowing how important it was to win for our team's seeding for regionals, it was nice to get the win," Zach Johnson.
The #1 seed Braves will play #4 seed Jackson in two weeks. Despite their top seed, if they do not manage to beat their rivals to the north, the Braves will stay home from the state tournament, but the Braves, 2-0 against Jackson this season, feel confident they can make it three in a row against the Broncs.