Treble Tones Show Successful Despite No Chocolate
Due to the rare year this has been, activities have been limited with many events not taking place as usual. Recently, some of the rules and limitations have been lifted. Because of this, the annual Valentine's Treble Tones show got the green light for Feb. 10.
Every year, the all-girl singing group puts on a Valentine's Day concert. They wear their bright red dresses and red lipstick, helping to make the whole outfit come all together.
There are 21 girls in the group, each with a different voice and a different part. Putting all of their unique voices together creates a beautiful sound. Music director Kari Allred works hard on assigning certain parts to certain girls in class every other day.
"I've had a really great time getting to know everyone, and I seriously love Treble Tones and everyone in it," said Onikka Olsen.
Members must auditions to get into the Treble Tone's group. Any girl from any grade can tryout. "Being the youngest one of the group was really hard at first," said freshman Allie Jack. "But overtime I have grown to love each and every one of the girls! The show brought us all so much closer together, and I really love Treble Tones and all that I have learned from these amazing girls!"
The show took place in the commons with chairs set up all around the commons and lots of decorations around. The show lasted about an hour and a half and consisted of a variety of love songs, including a few breakup songs like "We Are Never Getting Back Together" by Taylor Swift.
"I really liked the songs we sang this year," said Junior Gentry Hendricks. "They were hard to learn but super fun! It was awesome to learn some challenging songs and learn how to sing them really well."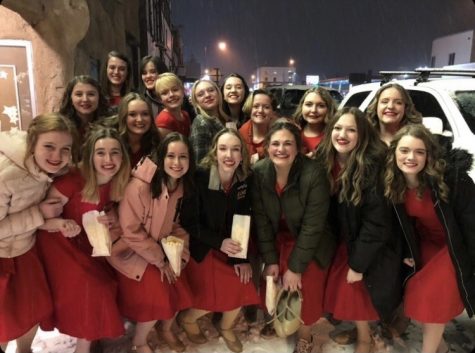 During a normal year, the group puts on one performance at the high school followed by with a chocolate fountain and lots of treats. This year the girls performed twice with no treats, besides a packaged cookie they handed out. Due to Covid, the amount of guests were limited and split into two groups and two different performances at the high school.
The first concert started at 6:30 pm for the participants' families. The second concert for high school students and friends gave students a chance to invite a date to the concert or go as a friend group. Many individuals attended the concert making it was a big success. The overflow crowd ended up sitting on the benches all around the commons.
"I really enjoyed the second show," said Junior Onikka Olsen. "We had way more energy than the first show, and I thought everyone really shined."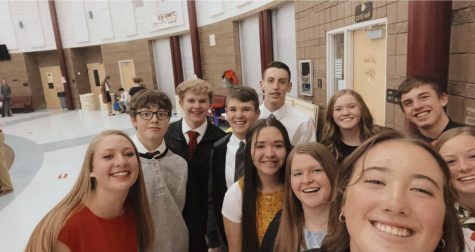 Hopefully next year the Treble Tones show will go back to their normal Valentine's routine with lots of treats. Although it was different than usual, the girls felt happy to perform in front of a crowd after putting in a lot of hard work and effort to make the concert happen.