Wrestlers Entering Crunch Time
As the 2020-2021 wrestling team closes in on another state tournament, there is little time for mistakes.
With regionals on Feb. 19th and state the following week., man wrestlers have spent time in the wrestling room reviewing and repeating certain "go-to" moves.  However, despite the high stakes of the state tournament, the team has experienced surprisingly little tension and nerves.
Head Coach Eddie Clark ofet tells the team, "Don't worry yourself. You guys just go out and wrestle these next couple weekends like any other match, and we will be just fine."  Clark has now won over 500 duals as a head coach for wrestling teams, so he knows exactly how to keep the team stay calm and collected as they go into these important weekends.
Senior Haze Child said, "I am trying to make this year my year, but I can't overthink things because when I overthink things I mess up." Child has been a varsity wrestler for all of his high school career and is super pumped about his senior year state tournament.
Seniors are not the only kids excited about the state weekend. Junior Harrison Hoopes stated, "This is an exciting year for me. I have a lot of friends going with me, and it's my first year back from Pennsylvania; so I'm excited to see how Wyoming differs from Pennsylvania."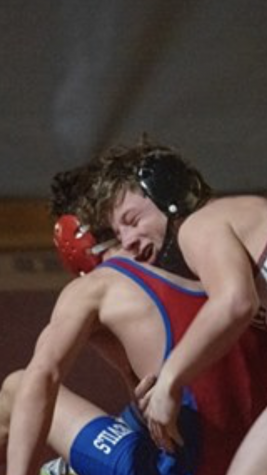 The  wrestling team is chasing their 6th state team championship in a row. With that goal in everybody's sights, the team will keep their composure and go out and compete in order to win. Not only does the team have a very good chance at a state title, but there are also many individuals with a good chance at taking personal titles, so pay attention and see just how well the Braves finish.