Pep Band Back Doing What They Do Best
Somehow covid it still bothering us even though it seems like it should have ended already.
On the bright side though, the WHSAA is now allowing more people into sporting events with up to 500 people getting into basketball games.
That means Pep Band is now allowed to perform again. Obviously, when not playing, band members are asked to wear masks and play in groups of 12 or less, so it's really spread out.
That won't stop the school spirit though. The band is still as loud as ever and will cheer at the top of their lungs. Although all the restrictions are a bummer, the band is more proud than ever to show their stuff.
Conductor Mr. Sand said, "Im ecstatic that these kids are playing again. I know the seniors were really wanting to play, and even if it's for the short number of games, they at least get to."
Not only are the band members excited to play again, but the basketball players also look forward to their return.
"I was excited to hear the band was playing again. They're really good and work really hard," said senior Tristen Kleeman.
Of course, it wouldn't be complete if a pepe band member didn't have something to say. "Pep band is super fun, and with it being my senior year, there's no way I wanted to miss it. And here we are playing again. It'ss one of the only times we can show our community what we've got," said senior Aiden Shervin.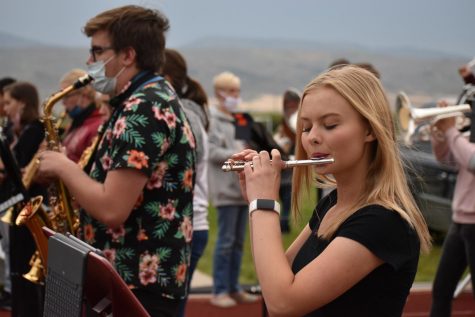 The band was sorely missed for the first few games, but now they're back, happy, peppy, and loud as ever.