Braves off to Strong Conference Start
At the end of January, the Braves began conference play against Evanston and Green River and came out on top in both games. The successful start to regional competition really sets up the team well in their effort to make it to the state tournament.
These games are important because qualifying for state will look a little different this year.This season the team will play a home game to decide if they go to state; however, the team they play all depends on the conference standings. If the Braves go in at the one seed, they will play the four seed (worst seed), making it a huge priority for them to try and do well in their conference.
The Braves pulled out the win against Evanston on Friday, Jan 28, by  slowly extending their lead throughout the game, not an easy task since two of the Red Devils stood well over six feet tall, one of them 6 foot 9 inches.
"It was a super fun game. Being friends with some of the kids on the other team made it a fun game to compete," said Tristen Kleeman
" I'm super glad we could come out with two wins in our conference, putting us in a good spot and also knowing we didn't play the best, so we can improve," said Zach Johnson.
After the win against Evanston, the Braves played and athletic team, similar in size to the Braves in the Green River Wolves. This face-paced game saw both teams trying to run transition offense well. Green River came out fast, but an exceptional second half by the Braves brought them back to within five points and an eventual ten point lead in the third they held for the rest of the game.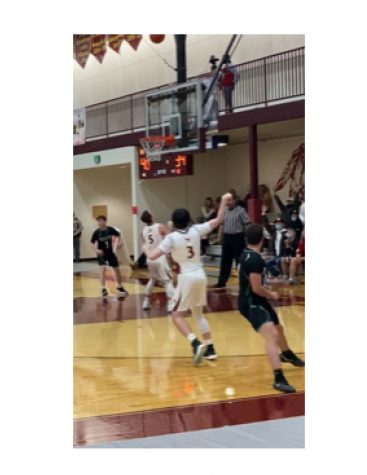 With a few non-conference games the first weekend of February, the Braves will try and keep their momentum and winning streak alive before they go back to face these two teams again to see who wilj capture the top seed in the conference.