Authentic Designs to Help Raise Class Funds
Covid has affected more things this year than school, sports, and dances. It has hurt the bottom line for many groups that raise funds through activities.
Selling concessions at games, vending machines, and the school store usually makes a decent amount of money; however, due to Covid the school store, vending machines, and concessions have all been closed resulting in a great amount of money for the classes. The senior and junior class has no where near the funds past classes have had to spend on activities like their graduation party.
Because of this shortfall, the SBO's have come up with a plan to raise money for their classes by designing and selling Brave clothing to raise money for the junior and senior class to spend as they need. This money can go to different activities like dances and their senior class party. They have designed shirts, sweatshirts, sweats, and hats to sell.
At state events, there are always sweatshirts and t-shirts sold to the participants. Buyers are able to pick which design they want on the sweatshirt and have it customized within a matter of minutes. Star Valley High School recently bought a machine that will allow students to customize their own sweatshirts and t-shirts, like at the state activities. They will sell these at the school store which is opening again for the first time since school started. The prices of these sweatshirts and other items are undetermined right now but they will be cheaper than the state hoodies, which are usually pretty expensive.
The SBO's recruited some artists and graphic designers to help them come up with the right look for the merchandise. Junior Sharon England is one of the designers that helped come up with a few different options that juniors can put on their chosen attire. Gabe Clinger was the another designer behind the senior class designs.
"I really like this idea," said junior Gentry Hendricks. "The designs are super cute, and we have a lot of a variety. I like that it's not the generic Star Valley merchandise."  The SBO's would like to pass on this enterprise to the younger grades as another way to make money. "I like that we have a way to make money now," said Junior Preston Buehler. "It's been really hard to make any money because of Covid."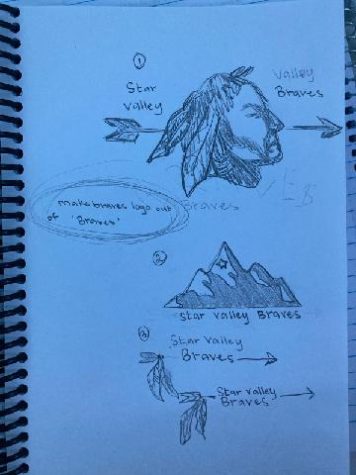 There is a lot riding on this fundraiser. The SBO's are hoping that the designs are cool enough and the attire is cheap enough that kids will buy it. "I hope it works. I think it's a good idea to figure out how to make money during Covid," said Principal Jason Horsely ."I just hope the logos are cool enough the kids want to buy them."
Junior and senior class officers have worked hard to design logos that will stand out and get attention. "I think it's a really good way to get some more unique clothes," said sophomore Cameron Erickson, "I would definitely buy them, especially if they have cool looking designs."
The SBO's have high hopes and are expecting the sweatshirts and hoodies to sell out pretty quickly explained SBO President Emily Strasburg. "I think it's a great idea for a fun way to raise money."
As the school store and concessions open up again, be on the lookout for these designs and hoodies. It's a great way to support and represent Star Valley High School.