Speech and Debate Competing Virtually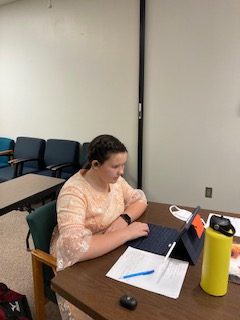 "It is better to debate a question without settling it than to settle a question without debating it…" said Joseph Joubert. Speech and debate is an extra-curricular activity that takes place after school just like sports.
Some students may wonder what takes place during speech and debate. "It is not what everybody thinks it is," said head coach Katie Roberts "There are a lot of different categories that students can talk and debate about. There is humor, drama, informative, and a congress category." Roberts loves teaching speech and debate because "it's a lot of fun with a lot of creative energy and a lot of competitive spirit that is very contagious."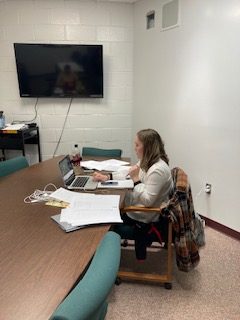 The competitions have changed drastically because of the pandemic. Instead of traveling and debating in person, students remain at their school and zoom into the competitions. "We are pandemic proof!" said Roberts. Although it has been an adjustment for the members of the team, some positive outcomes have emerged. One of them being that judges can judge from anywhere, even from their very own home. "Judges can judge from all over the world," said Roberts. This is an amazing opportunity for people from different places to participate in competitions.
The speech and debate team just recently had their second competition of the season. Their first tournament went well, and they finished fairly high. There were a few students that did exceptionally well. "We had some great super stars," said Katie Roberts. "
Freshman Maggie Daniel made it to finals in congress, and Priscilla Greenwell placed high in informative." Daniel likes the people she competes with and enjoys the challenge of speaking in front of people but feels it will get easier with practice.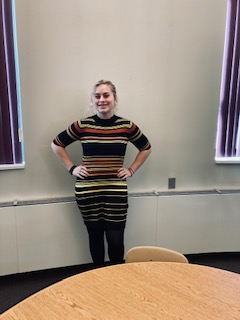 Greenwell is one of the team captains and works extremely hard to do well in competitions. "I compete in informative and drama," said Greenwell. "I took 3rd place in informative which makes me really happy." She really enjoys being a part of the speech and debate team. "It's a place where I feel like I can be myself no matter what." In their 2nd tournament they placed 3rd as a team. Their home tournament will be on the weekend of January 22nd.
See the link below for the speech and debate school website. For any additional information go to the website. There is also a place to sign up to judge the competitions if there are any parents or adults interested. Katie Roberts (Head Coach) and Julie Lewis (Assistant Coach) are always looking for more students to participate and be involved. https://sites.google.com/view/star-valley-speech-debate/home