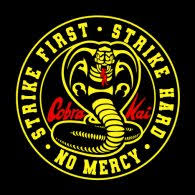 Everyone loves their Netflix originals and has been told about the biggest title right now, whether from a friend or from Netflix itself.
Cobra Kai has some of the best reviews on Netflix right now. With season three having come out just a few days ago, those reviews are bound to rise. The only way for viewers to decide for themselves is to read summaries and analysis before tuning in.
First I'll start with plot line. A boy (Miguel, acted by Xolo Mariduena) is getting bullied in school. His neighbor (Johnny Lawrence, played by William Zabka) was a karate blackbelt back in his prime, but now lives in a small trashy apartment. He was the main antagonist in the 1984 Karate Kid. He's reluctant to teach this Miguel any karate even if it is just for defense, but he eventually creates his own dojo and teaches plenty of "nerds" how to defend themselves. Of course, there's more internal conflict and other familiar faces from the Karate Kid such as main protagonist Daniel laRusso played by Ralph Macchio. I'll let you further that investigation on your own. Many have  all three seasons of Cobra Kai.
"I was super psyched for the new season. I just love the character development we get from Johnny; he's super easy to dislike, but he grows on you really quickly," said Jr. Gideon Lainhart.
Many viewers became Karate Kid fans when it came out and are super into the Cobra Kai series.  Mr. Kelly Fullmer said, "I hated Johnny Lawrence in Karate Kid back in the 80's when the movie came out, but I like him now in Cobra Kai. He's still kind of a jerk, but he's more likable with age."
There you have it. If there's show that anyone should be watching right now, it should quite definitely be Cobra Kai. So the next time Netflix recommends it,  give it a go and keep an open mind.