Braves Feeling Good Despite 0-2 Start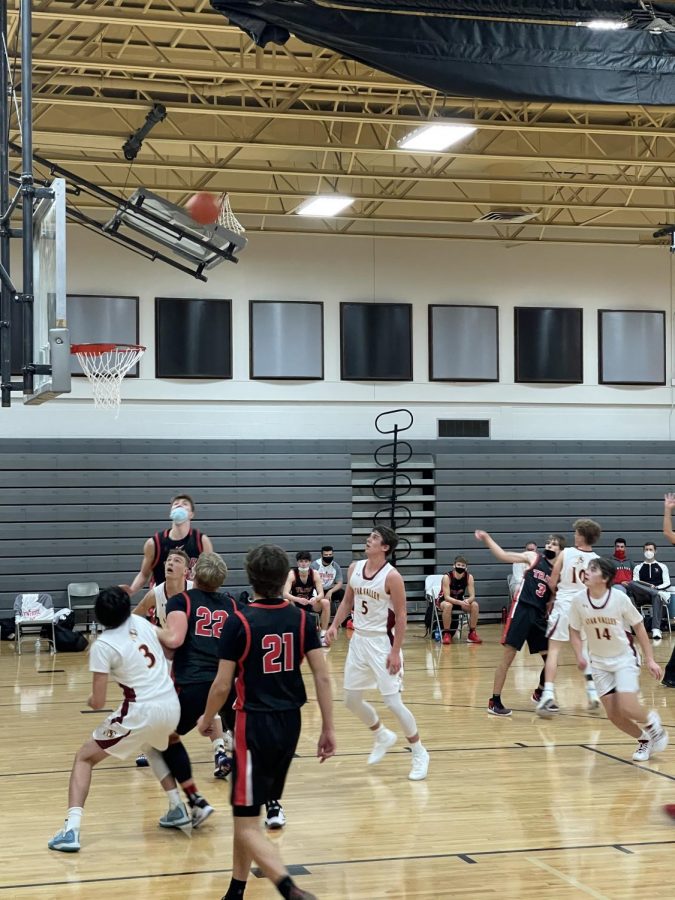 After graduating seven seniors from last year's team, the Braves basketball players started their season in Rock Springs to compete at a two-day tournament.
Despite losing a lot of experience, five players returned this season: Kolter Merritt, Zach Johnson, Brant Nelson, Cache Bagley, and Tristen Kleeman. Coach Kabonic seemed positive despite starting 0-2 for the first games. He felt good about the weekend because he feels everyone is surprised by the way Star Valley showed up and played. "If that is #1 and #4  [ranked teams in the state] who we played, I would say we are in the top 5 or 6 teams, and I think we can say that pretty fairly," said Kabonic.
The Braves first opponent of the seas was Cheyanne East, ranked number 1 in the state. Although the Braves lost to East 70-81, they gained valuable experience. Kolter Merritt was the leading scorer of the first game with 19 points, many coming from the free throw line.
Juniors Kortlen Hilton, Dylan Johnson, and Tate Frome also got the chance to shine at the varsity level. Johson felt nervous about playing varsity for the first time but once he got in he said he "did my thing." Johnson scored 11 points in the first game, 9 coming from behind the three point line.
"After the nerves went away, the game felt like a regular game. It was a lot more fast pace and high tempo than JV. You don't really get a break. The varsity level is more like a run and gun game. I think as the season goes on the juniors and seniors will get better chemistry together," said Johnson.
The braves went on to play Central the second day, and lead the Cheyenne team for most of the game until the fourth quarter. The Braves lost 57-63 but came close to taking a win.  Tristen Kleeman went off in that game scoring a team-high 22 points.  The boys felt a little let down by not finishing the game against Central but were excited to know they could play with a solid team.
Coach Kabonic said they need to work on closing out games and staying out of foul trouble. "The best guys cannot be on the bench because of fouls, and a lot of the fouls were silly, like reach fouls and dumb fouls," Kabonic said.
The varsity Braves will continue to test themselves against good 4A teams all season and seem up for the task.