New Vaccinations Bringing Hope in Fight Against COVID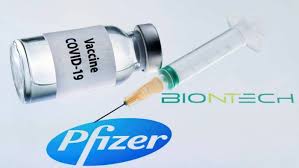 As the year draws to an end, COVID cases remain high. Cases spiked in October and November to some new highs previously unheard of.
According to the World Meter, on November 23rd there were 1,262 confirmed cases in Wyoming. Furthermore, on December 3rd, there were 27 reported deaths in the state. This pandemic has tremendously affected many people's lives throughout 2020; however, new COVID vaccines are popping up and bringing hope of a return to normal with them.
Many students are hopeful that the new year will be better. With multiple COVID vaccines on the horizon, it is a strong possibility. "I think it will be better, not ideal, but better than last year," said Gentry Hendriks.
No one can know the future, but Addy Hart is also hopeful for a better 2021. "I don't know [if COVID cases will decrease in 2021]. I am hoping they will."
Others are not so optimistic for the future. As many people grow tired of this pandemic, they are less likely to follow the safety guidelines. These include wearing masks, staying 6 feet apart, and avoiding large groups. "Hopefully, yes [COVID cases will decrease in 2021], but from what I'm seeing, no," said Melanie Perez.
While some remain skeptical, there is some very real hope that 2021 will be a better year. Multiple COVID vaccines have begun to come up with positive testing results.  There is only one COVID vaccine currently authorized, Pfizer-BioNTech's COVID vaccine. However, there are also three more COVID vaccines in Phase 3 Clinical Trials as of November 24, 2020. These include AstraZeneca's vaccine, Janssen's vaccine, and Moderna's vaccine. In response to this devastating pandemic, companies produced vaccines  quicker than ever before. While vaccination makes some uneasy, healthcare experts believe that there is no risk in getting a vaccine.
Frontline healthcare workers are a top priority o get vaccinated as quickly as possible. This includes nurses and doctors in hospitals around the USA, like Hendriks' mom. "I think people should get them. My mom, she works at the hospital in Utah, is getting hers on Friday. We've talked to many of my mom's friends who are pharmacists, and they said there's no real risk," said Hendriks.
Going into 2021, there is still a lot of uncertainty about what the future may hold. Yet as families gather to celebrate Christmas, there is hope for the new year. As horrible as this year was, vaccines offer the chance that in 2021 COVID cases significantly decrease.