College Football Playoffs Set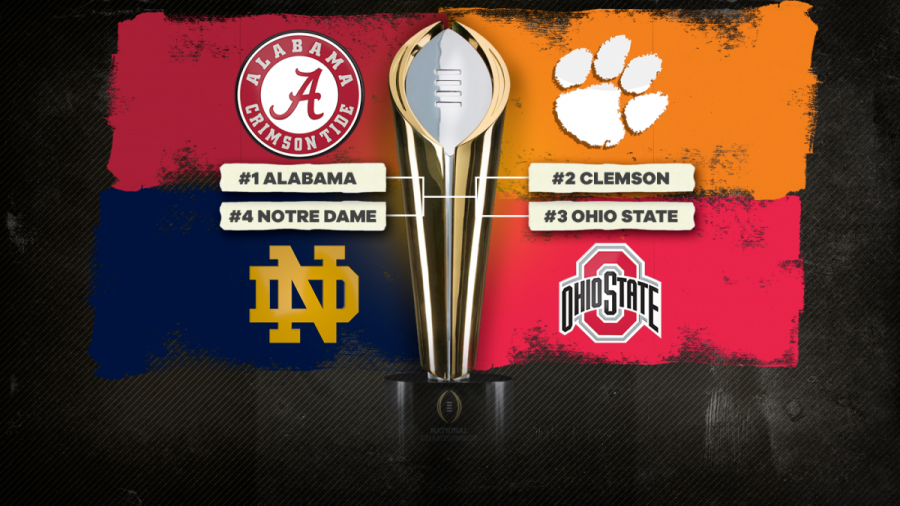 Amidst a COVID-19 plagued season, the college football playoffs are set, if anyone cares.
The four teams invited to the playoffs for the National Championship consist of No. 1 Alabama, No. 2 Clemson, No. 3 Ohio State and No. 4 Notre Dame. The Crimson Tide and Fighting Irish play in the relocated Rose Bowl while Clemson and Ohio State we see who advances to the finals from the Sugar Bowl.
Much if the strange season was cut short or canceled due to COVID-19. The Wyoming cowboys had multiple games canceled throughout the season making it hard for them to earn a berth in a bowl games. "My team, the Oregon Ducks, had multiple games canceled throughout the season, and it was tough to keep up on them," said Taggart Heward .
School counselor Reed Lesuma played college football for Washington State University. "When I played there the rush was amazing because of the 23,000 fans that were always in the stadium," said Lesuma.  "I feel badly for the national and college athletes because of their effort they put in only to be rewarded with no games or fans."
As a fan of college football, Lesuma continued, "It's hard to keep up with any teams because you never know if their games will be cancelled from week to week."
Sports all over the nation have been affected by the corona virus, and it's safe to say that sports fans have been as well. Hopefully next year the seasons won't be affected, and life can return to normal.