Fashion Trends Revolving Around Shoes This Year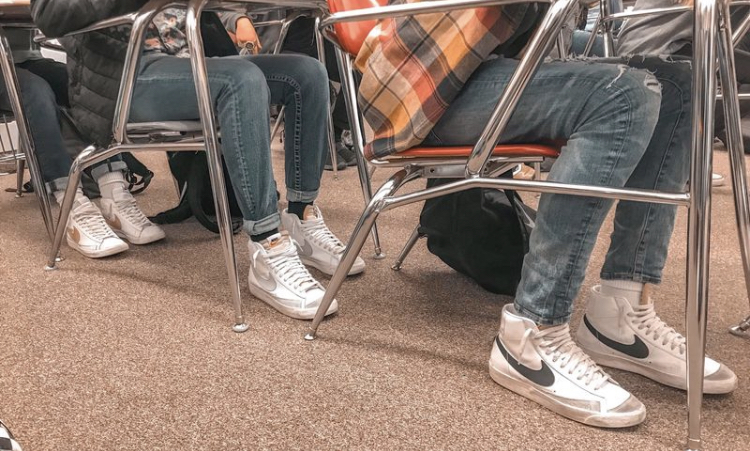 Fashion trends run a little differently each year. In previous years more patterns and prints, certain styles of pants,  and even hair accessories have dominated the fashion landscape. This year everything seems to be a little more relaxed and centered around shoes. Yes, the leopard print still makes the occasional trendy appearance, but these kinds of trends are not garnering nearly the amount of attention kicks are getting.
"I don't know about fashion, but fashion knows about me," said sophomore Braeden Dickey. His common 'fit for school includes a t-shirt or hoodie paired with dudes and a hat if no teacher is present.
Dudes seem to be a common trend for all ages this school year. They are a shoe that both a girl or boy can wear, and are very versatile.  "A lot of people where 'Hey Dudes,'" said Grey Neuenschwander
"Dudes go good with anything. They're also comfy. Cinch and Wranglers also seem to be what a lot of kids are wearing. Wranglers are sexy," said freshman Kal Burke. For the more 'ranchy' type of kids, this does in fact seem to be what they are wearing to school much of the time. Some guys wear Georgia Boots to mix it up a little bit.
Kids not as in tune with their country side rep other trends popular around the school. Nike Air Jordans, along with the common Nike Blazer, are often seen in the halls worn by both genders. "I think that my style is pretty good. It's not, like, crazy but out is still cool. I love shoes and try to get a lot of them," said Luke Linford.
Addie Butler recently purchased a pair of Jordan's and loves them. "I have always loved the style of Jordans, and I just finally made the purchase because they can be a little spendy! But I love them and already want another pair!" Butler said.
Style currently is evolving from the ground up, centered around shoes. Although outfits still look pretty basic, some Georgia boots or Jordans can make all the difference.