Will Lady Braves Take Court This Season?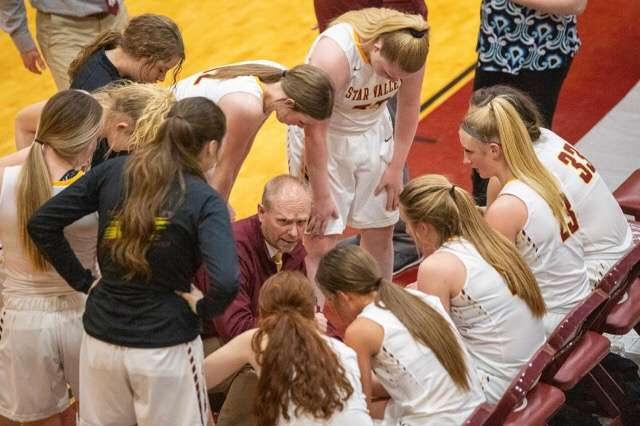 With Covid-19 continuing to affect everything, fall high school athletes were lucky to complete their seasons, but will we winter sports have the same opportunity?
Basketball players have attended open gyms all summer and this school year, so they can be prepared. Everyone is crossing their fingers for a regular season to happen.
Girls head basketball coach Kade Erickson is optimistic about his season and looks forward to the tough competition to come. "In our conference the team to beat is, Green River!   Also, Cody and Natrona will both be tough teams on the west side of the state."
Erickson feels excited to be back in the gym with the girls and playing basketball since with the abrupt ending last season they never got closure.  "I am ready to get back into the gym," said Erickson.
With six returning varsity players from last season, the Lady Braves have reason to expect success. "We have a lot of girls coming back that have a lot of varsity experience from last year. I'm hoping we get a full season! said senior Page Nield.
Senior Brierly Battleson is also hopeful for a full season to come, but isn't looking forward to everything. "I'm least excited for running, especially when are timed during practice."
Junior Whitnee Hale shared Brierly's distaste for conditioning and looks forward to playing in rival games. "My personal favorite team to play is either Jackson or Evanston because they are our rivals," said Hale.
Some of the players have extra incentive to lace 'em up this winter because it may be their last chance to do so. "I'm super excited, but I'm most excited to play because it's me senior year.I sure hope we get a full season but I am worried it will get shut down," said senior Addie Butler.
Even if the season goes forward, COVID-19 restriction will continue to apply. "I'm least excited for the COVID restrictions and wearing masks on the bench, said Butler.
Along with the competition, making memories and coming closer together as teams is what many players find lasting value in.  "I am most excited just to play the game and make many more memories on and off the court," said Maddie Hale.
So far it looks as if winter sports will begin as usual. If they eventually finish remains to be seen.