Male Cheerleading Diversifies Sport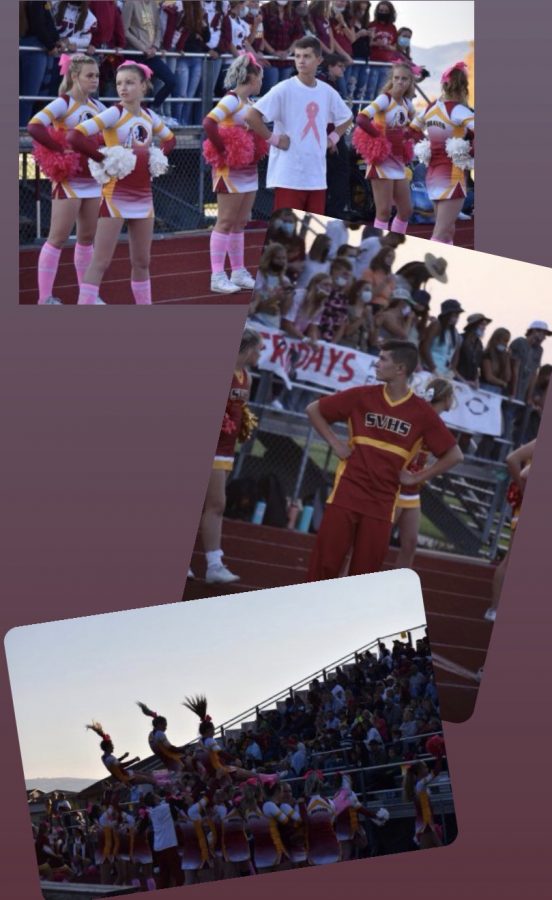 Whitnee Hale, staff writer
November 11, 2020
"Shout out to Dax Sessions, this years only male cheerleader: Thanks for keeping things classy and sassy!"-Coach Rappleye
The sport of cheerleading has been around for more than a century. Throughout the years, the sport has evolved from cheering, to stunts, to gymnastics. As we see it now, cheerleading involves the performance of organized cheering, chanting, and dancing in support of a sport team at games. Male cheerleaders are a staple of the sport at the college ranks, but Brave cheerleaders have traditionally consisted of mostly girls, with occasional exceptions like Ryan Milne in 2018. Those boys paved the way for future guys in cheerleading like freshmen Daxton Sessions.
Cheeleading coach Stacey Rappleye and Daxton Sessions answer a few questions about male cheerleading.
What is the role of male cheerleader? "His role is the same as any female cheerleader—to lead the crowd in raising school spirit and rooting for the school's many sports teams."-Rappleye
Why did you want to join the team? "One reason was male cheerleaders can get major scholarships, and being a part of a team and to succeed with each other and fail with each other!"-Sessions
Would you want more on the team? "100% yes!!!! I know there are some out there that think cheerleading isn't very masculine. That can't be more untrue!!! It takes a great deal of strength and stamina to constantly be tumbling, jumping, and stunting! I mean c'mon, these guys have to throw 120 lb human beings in the air and then catch them, all by themselves! Nothing about being a male cheerleader is emasculating!… I know there are many of you out there with hidden talents in tumbling, jumping, dancing, and such… It's time to STEP UP, TRY OUT, and BELONG to a team that lets you showcase those talents!"-Rappleye
"Cheer is not just for girls, it is for boys too, and I would love to have another boy on the team, not just me but the whole cheer squad is looking for more!!!"-Dax
What is the best/ worst part of being on the team? "The best part to me is how we spend so much time together. They're not just friends, they're FAMILY! The hardest part is probably when you have to give up a lot of time to practice cheering and stunting when you could go home and rest or hang out with friends or family."-Dax
What do they add to the team? Diversity for starters. It's a lot of fun to see both girls and boys out on the field/court/mat. The males tend to catch on a little quicker because they are not impeded by the mental blocks that can plague so many girls."-Rappleye
What would you say to someone who wants to try it? SEND IT! Have fun with it, see how far it can take you, plus make more brothers and sister on the way. Make sure that you work your very hardest and show to the coaches that you want it! Cheerleading isn't just a sport, it's life lessons."-Dax
Cheerleading has changed, and continues to change. Get involved, try something new, and "SEND IT," as Dax would say!