Seniors Win Big Beefcake Balling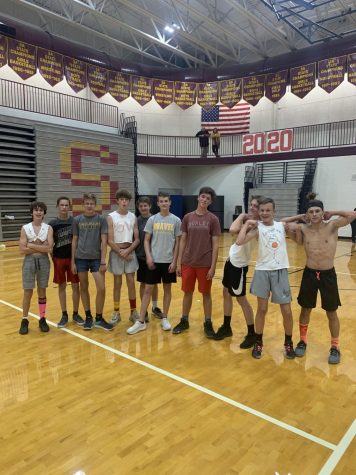 According to the Urban dictionary, "Beefcake is a term used to refer to buff/ripped males. Beefcakes are usually good-looking and enjoy displaying their muscles to the masses." It is also a homecoming week tradition that started at least 5  years.
Beefcake was started because the school wanted something for the boys to do similar to what the girls have done for years with powderpuff football game. Boys from all grades switch sports for a night and dominate in volleyball. T
Participants show up in sports bras, booty shorts, paint, cut shirts, anything they want. Parents and students come to watch and support the event. This is a great time for the boys to show us what they can do.
It feels unfair from a girl's perspective to see the boys jump high above the net, but that is what makes it so fun to watch. Volleyball Lady Braves coach the teams and hold one practice for about 30 minutes.
Senior beefcake coach McKenna Brog said, "In the past years I have had a lot of fun coaching the boys, but this year was a different. The boys were very difficult to sub in and out and some acted like babies when they weren't on the court. But I'm glad we ended up taking the W our senior year."
The juniors lost to the seniors first round because usually volleyball girls don't like Winston and me, but they let us play a lot this year. It was awesome," said Ryker White.
Every year the beefcake tradition grows and the students love participating in it. Now if fans could just erase the mental images of football linemen showing too much skin!