Golfers Finish Competitive Season, Finish 4th at State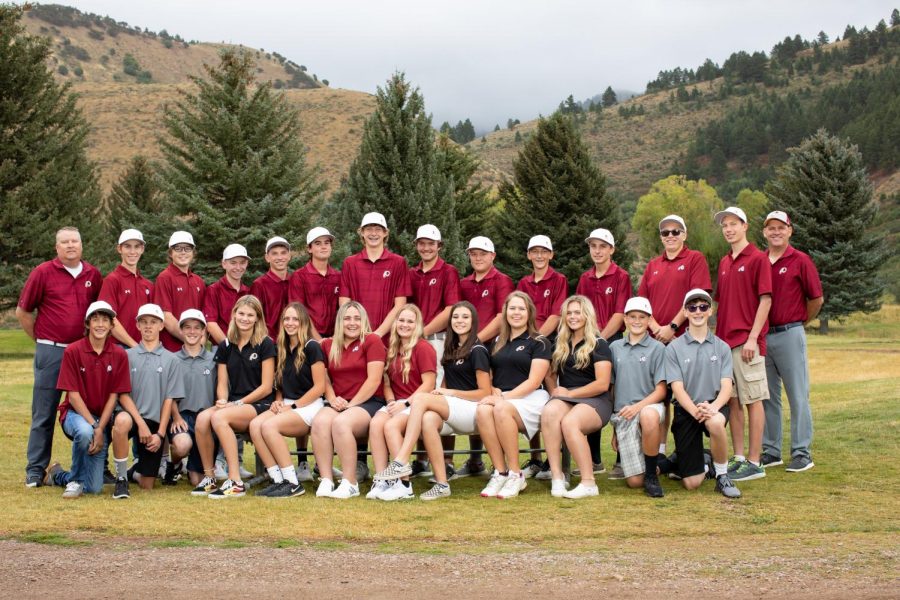 The golf team returned from the state golf tournament in Evanston over the third weekend of September with their heads held high. Both the girls and boys team brought home fourth place team honors.
What many people pay to do for fun, the Brave golfers get to do for their school sport. Karsen Spaulding said "It was so much fun because I got to golf."
On the first day of tournament the weather was sunny with a slight breeze, but it got worse the next day. Saturday was very windy and cold, making it tough for the athletes to perform their very best. Regardless of the tricky weather some of the players still managed great performances. The senior leaders lead out on the second day of the tournament with Spaulding shooting a 78 and Taylor Erickson a 94 for the Lady Braves. Erickson shot a 90 on Friday to also lead her team.
Taylor Erickson and Taylee Stoker finished in the top 10 and earned all-state honors as well. Karsen Spaulding missed all-state classification by two strokes. due in large part to a disastrous 12th hold on the first day of the tournament where the 2019 all-state golfer put three over a fence. "Other than that par 5, Karsen easily played well enough to make all-state," said Coach Kelly Fullmer, "but you have to count them all." That wasn't the first time the par 5, 12th hole at Purple Sage derailed a Brave's hopes for a top finish. In 2008 golfing standout Charlie Stibor saw his hopes disappear with his ball over the same fence Spaulding found twelve years later.
Two Lady Braves did make the top ten to gain all-state recognition: Senior Taylor Erickson and junior Taylee Stoker. Erickson credited her success to "working hard and practicing." Coach Fullmer noticed. "No one worked harder than Taylor over the off season, and that work—as it usually does—resulted in success. We were very proud of Taylor this season."
The week before in Powell, virtually all the SV golfers who made the trip claimed all-conference honors.  These athletes include dKarson Spaulding, Tanner Thomas, Jacob Hodges, PJ Horsley, Taylor Erickson, Taylor Anderson, Taylee Stoker, and Jackie Simmons.
"I really though our teams performed well this season," said Coach Fullmer. "They were competitive and represented our school well."
Erickson said she will miss "the people I got to meet because of it" the most, but with five of her lady teammates back next fall to joins a strong, young boys team, the SV Brave Golf future looks bright.